ISIS Threat To Italy: Islamic State In Libya Sparks Fears In Europe, But Experts Caution Restraint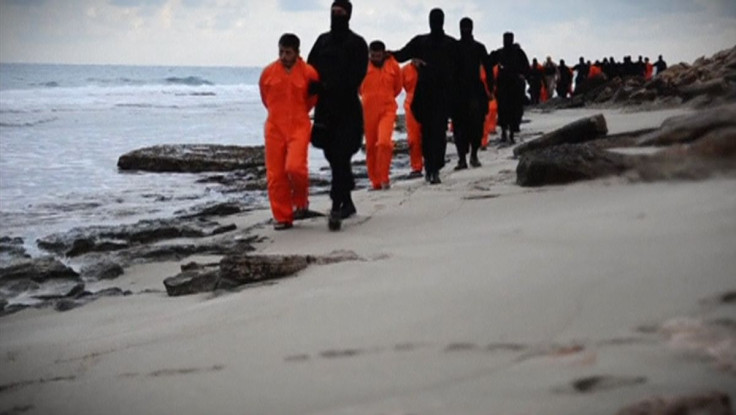 Italy has watched in trepidation this week as fighters claiming allegiance to the Islamic State group reached Libya's Mediterranean shore, prompting threats of military action from Italians fearing the extremists could use the anarchic, nearby country as a springboard to launch attacks in Europe. Officials fear ISIS could infiltrate the swelling stream of immigrants coming to Italy from Libya in boats, or disrupt Italy's vital oil lifeline.
The ISIS threat has been troubling Italian officials for months, especially after the group in October crowed about conquering Rome in Dabiq, a propaganda magazine aimed at recruiting Western followers. Most recently, ISIS released a video over the weekend purportedly showing the group beheading nearly two dozen Egyptian Christians kidnapped in Libya. The killings sparked airstrikes from Egypt against the ISIS stronghold in Derna.
"The risk is imminent, we cannot wait any longer," Defense Minister Roberta Pinotti told Italian newspaper Il Messaggero this week. "Italy has national defense needs and cannot have a caliphate ruling across the shores from us." Libya lies just 109 miles south of the Italian island of Lampedusa and 300 miles south of Sicily.
Prime Minister Matteo Renzi recently closed the Italian Embassy in Tripoli and threatened military action. The Italian government has said it is prepared to deploy 500 special anti-terrorism police to protect important sites in Rome and up to 5,000 ground troops to North Africa. Italy also joined Britain, France, Germany, Spain and the U.S. in asking the U.N. to lead an effort to unify Libya's fractured governments. "There was renewed Italian commitment for strong diplomatic action within the framework of the U.N. and support for an urgent initiative at the Security Council to promote stability and peace in Libya," a statement from the prime minister's office read.
But others have warned Italy should be careful about its next move. Despite the growing unease in Italy, some experts believe the ISIS threat might be overblown and used to bait Italy into taking military action in Libya, which could further plunge the country into chaos. "Intervention would create more disunity, which is the reality in which extremist groups could thrive," said Claudia Gazzini, a Tripoli-based senior analyst for Libya with the International Crisis Group. "It's not clear whether there is an actual threat or the perception of threat." She continued: "The use of force in Libya in the current situation is suicidal, and a high-risk enterprise."
Italy's involvement in Libya dates from 1911-12, when it grabbed the country from the Turks in a colonial war. It colonized the North African country until losing it after Mussolini entered World War II as an ally of Hitler. A new era in Italo-Libyan relations came in 2008 when then-Prime Minister Silvio Berlusconi apologized to Libya for Italy's colonial past and signed a cooperation treaty with dictator Moammar Gadhafi. Since then, Italy has invested billions in Libya's oil infrastructure, including the longest underwater pipeline in the Mediterranean that stretches from the Libyan coast to Sicily. Italy imports an average of 550,000 barrels daily from its North African partner, according to Heartland.
Last year saw a 64 percent increase in the number of illegal immigrants coming to Italy from Libya and Turkey, the most ever recorded, according to the Daily Beast. Some Italian officials have argued that it would be all too easy for ISIS to commandeer one of the vessels coming across the Mediterranean in order to carry out an attack in Italy. "According to many [of these immigrants], it is easily possible to pass through Maritime Security Checkpoints and arrive in cities," a propaganda essay written by an ISIS supporter and published online this week stated, according to the Telegraph. "If this was even partially exploited and developed strategically, pandemonium could be wrought in the southern Europe."
Despite the risk, analysts have suggested a limited military component in Libya. "It [the EU] is going to have to make up its mind on what is the right strategy," Sir Richard Walton, former British ambassador to Libya, told Newsweek. "It could be that the conclusion is the threat is not imminent to Europe, therefore international action should be confined to containment, which could be done through an air campaign."
FOR FREE to continue reading
✔️ Unlock the full content of International Business Times UK for free
offer available for a limited time only
✔️ Easily manage your Newsletters subscriptions and save your favourite articles
✔️ No payment method required
Already have an account?
Log in
© Copyright IBTimes 2023. All rights reserved.