ISIS Using Chemical Weapons? Islamic State Reportedly Gathering Ammonia, Sulfur Amid Mosul Battle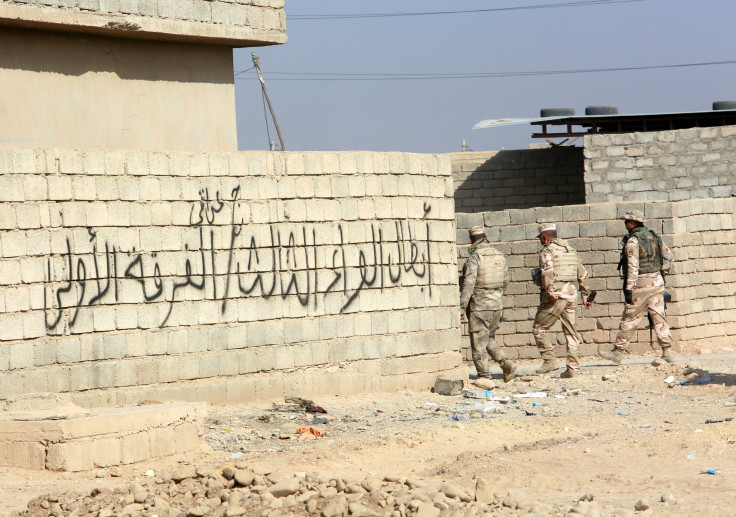 A United Nations official said Friday the Islamic State group, currently clinging to its last remaining stronghold in Iraq, is building up a stash of chemicals that could be used to make weapons, according to Reuters.
UN human rights spokeswoman Ravina Shamdasani revealed that ISIS, facing a major offensive of Iraqi security forces that includes Shiite militias and Kurdish peshmerga with backing from a United States-led coalition, has started using "phosphor projectiles" as its grip dwindles. Phosphor projectiles can burn people and provide smoke cover, according to Vocativ.
They may just be one form of chemical warfare ISIS is developing.
"In Mosul, reports indicate that large quantities of ammonia and sulfur have been stockpiled by ISIL, and there are reports that these chemicals are being placed in the same locations as civilians," Shamdasani said.
She also said a mass grave containing more than 100 bodies was discovered in the town of Hammam al-Alil, Iraq. The new information came from several sources, including one man who survived an alleged execution by playing dead.
Shamdasani admitted there are "many other" killing fields, as well. The international body has heard reports of additional mass graves but has been unable to determine their veracity, according to Reuters.
As many as 40 civilians were also shot and killed Tuesday by ISIS for "treason and collaboration" with the Iraqi forces, she said, and another 20 were killed on Wednesday near a military base in northern Mosul.
"We get so much information," Shamdasani told reporters. "We've been in Iraq a very long time."
The report comes on the heels of others claiming that the patchwork Iraqi forces are having great success against ISIS. Most recently, it said it killed one of the extremist organization's senior commanders, Mahmoud Shukri al Nuami, on Tuesday, military sources told CNN.
Nuami, whose death was confirmed by an ISIS video calling him a "martyr of the battle," may or may not have been a member of former Iraqi president Saddam Hussein's intelligence ranks. He was killed in an airstrike in western Mosul, according to CNN.
© Copyright IBTimes 2023. All rights reserved.