Issuu Adds Buy Button To Digital Magazines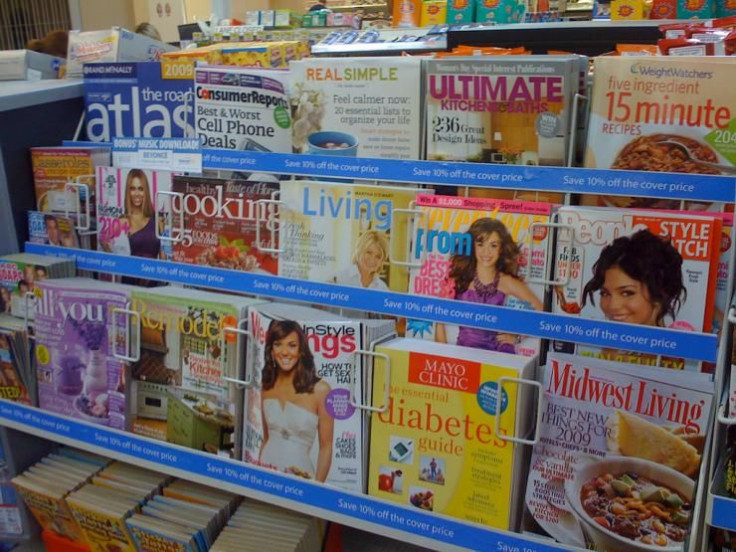 Facebook Instant Articles. Google's Accelerated Mobile Pages. Apple News. Snapchat Discover. Tech giants are clamoring to distribute content; meanwhile, magazines are struggling.
Newsstand sales for magazines plummeted over 14 percent for the first quarter of 2015 year over year. Revenue from consumer magazines is expected to be flat this year at about $24.6 billion, PricewaterhouseCoopers estimated.
Yet the print business is still looking for alifeline, this time to e-commerce. Eight-year-old digital publishing platform Issuu released a new tool for in-publication shopping, the company announced Wednesday. The system now integrates clickable links on top of digital pages that direct to third-party sites like Amazon, Etsy and eBay.
"Every single page can be an interaction whether it's through commerce or reading a story," said Joe Hyrkin, CEO of Issuu. "This enthusiast and passion-oriented content is engaging. It's absolutely the way to transform publishing."
The idea is not brand new, however, nor are successful statistics easy to come by. A company called 3D Issue that provides a similar type of software solution for converting magazines to online formats released an e-commerce experience in 2013. Yudu and Mag+ also offer publishing tools with shopping elements.
Even a decade ago, Forbes bought into a wand-like device that allowed readers to scan over advertisements in the print magazine and be directed to retail sites, recalled Ed Weiner of media buying agency Hudson Media Services. "But the same time this wand was being offered, the Internet was coming of age, and the dollars flowed from print," Weiner said.
Weiner said he does see potential in issuu's introduction of clickable shopping links, perhaps not in boosting magazine's revenue but in maintaining ad sales. "Companies may not change their rates, but it increases the value [of print ads] in a world that's changing fast," he said. "There's an outflow of money to digital platforms. People don't print new money. They re-allocate."
A Toolset For Growth
The added value from e-commerce buttons extends what issuu has already provided to some 2.5 million publishing partners. That includes names like adidas, Harrods Online, Jansports, New York Times Style Magazine, Penguin Group, Travel + Leisure, VICE and Williams-Sonoma. The site, which is available as an app, mobile site and desktop, caters to about 100 million readers and has about 4 to 5 billion page views across the network every month.
"We need to maintain advertising partners. It's hard to give ad partners real statistics on read data via the magazines," said Abizer Kapadia, co-founder and creative director of Draze, an independent yoga-focused publication based in London. "The [e-commerce link] gives us something else to offer them."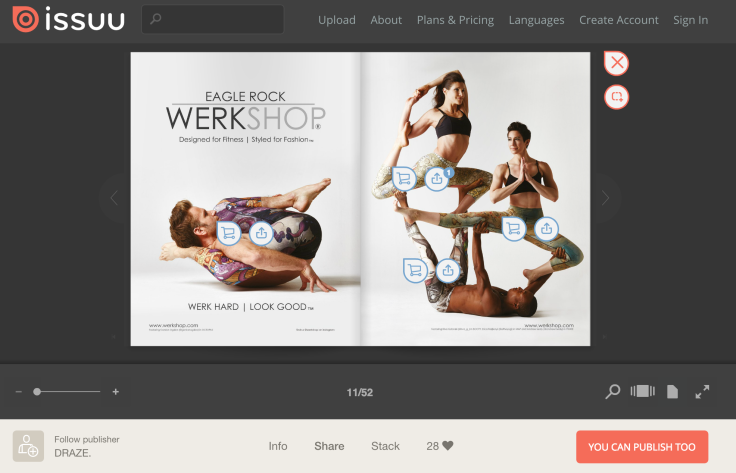 Already, Issuu had helped with Draze's growth, particularly in readership. Kapadia publishes 3,000 print copies of Draze which is distributed mostly to yoga studios in London. That's not his only readership for the magazine layout. Each copy on issuu receives on average 30,000 unique views. Readers, on average, spend 5 minutes on the digital magazine.
As to the experience for the reader with these new links, Kapadia said he sees it as a value. In fact, readers have emailed his team for the sole purpose of finding out how to purchase a product displayed in the magazine. In regards to the ethics, that's left to the reader, the publisher and the advertiser to decide.
"What we're doing is providing access to commerce. Publishers can set up they're own relationships," said Hyrkin of issuu.
Kapadia also re-publishes content on Draze's website -- that is, so far, without digital advertising -- and claims 5,000 unique visitors. Reproducing on issuu, however, is much easier for his team. "We wanted to get out into the wider market and into more countries," Kapadia said. "For our workflow, we create InDesign files and export to PDF. That's the same for issuu. It's exactly the same workload."
Issuu works on a freemium model, as in uploading content to the system is free but publishers can pay for additional services like analytics. The company claims tens of thousands of subscribers who pay $30 to $40 per month.
Reading And Selling Digitally
With newsstand sales dropping, it's getting more difficult for magazine readers to discover and access publications -- unless they subscribe. Platforms like issuu allow magazine publishers to upload their content to the Web without having to re-format.
While Facebook, Google and Snapchat are boasting users big viewership numbers, issuu touts its 100 million monthly uniques. To some Issuu readers, the site and app is a useful destination for accessing magazines in their traditional format.
Publisher Kapadia said he discovered issuu when searching for how to buy one of his favorite independent magazines, Little White Lies. Media buyer and analyst Weiner said he goes to issuu to read AdWeek. "There is a difference between reading on a tablet and consumer screen and flipping through pages. The texture is lost," Weiner said.
But still there's some readership, and more digital offerings can extend viewership that help boost up those falling statistics. "Issuu is a delivery system that offers data collection," Weiner said. "Publishers are branding the print product as something more than just the magazine."
© Copyright IBTimes 2023. All rights reserved.
FOLLOW MORE IBT NEWS ON THE BELOW CHANNELS