Japan Whaling 2017: Slaughtered Minke Whale Found On Ship In Antarctic; Crew Attempted To Cover It With Tarpaulin, Activist Group Says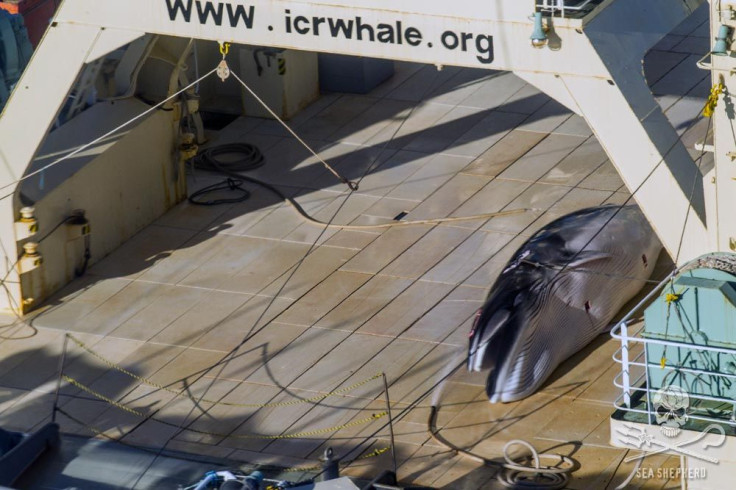 A slaughtered minke whale was found on a Japanese ship in the Antarctic in an act being perceived as a defiance of an international court ruling against the country's whaling activities, activist group Sea Shepherd said Sunday. The group found the dead whale on the Nisshin Maru vessel in the Australian whale sanctuary around the country's Antarctic region.
"The whale killers from the Nisshin Maru were caught red-handed slaughtering whales in the Australian Whale sanctuary," Captain Adam Meyerson of the Ocean Warrior, Sea Shepherd's Southern Ocean patrol ship, said in a statement. "The Steve Irwin [the group's helicopter] has shut down their illegal operations and caught them trying to hide the evidence."
The Sea Shepherd helicopter also found two harpoon ships near the Japanese vessel, whose crew covered the dead whale with a tarpaulin when they were spotted.
"The fact that the Japanese crew went to cover up their harpoons and the dead minke whale on deck just shows that they know what they're doing is wrong," the captain of Sea Shepherd's MY Steve Irwin, Wyanda Lublink, said in the statement.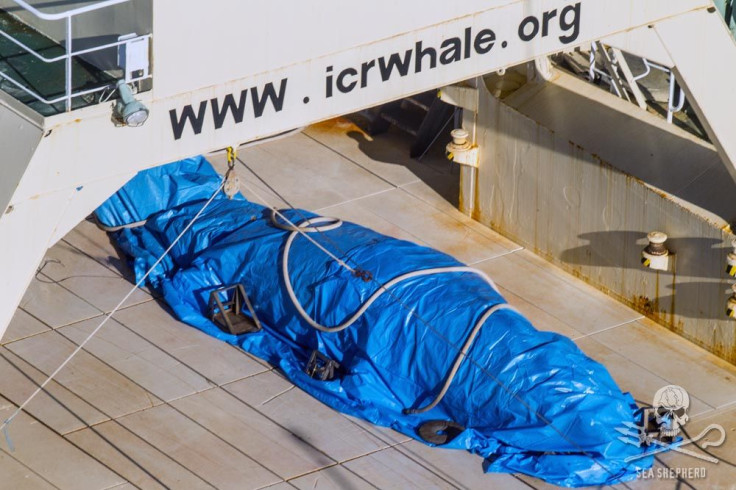 The incident is first to be reported since a 2014 ruling against Japan by the International Court of Justice (ICJ), according to Sea Shepherd. Japan has reportedly hunted more than 8,200 minke whales in the Antarctic since 1986 despite an international freeze on commercial whaling — claiming that it is whaling for "scientific research."
"They're [whales] hit with an explosive harpoon that goes straight into their body, hooks come out and shrapnel is sent through their body, it's a terrible bloody death… these whales can take up to 30 or 40 minutes to die," managing director of Sea Shepherd Australia Jeff Hansen said.
Japan cancelled its 2014-15 hunts following the ICJ ruling. However, the country resumed it last year under a new program with two-thirds cut in the target catch number. It also said that it is trying to prove that the whale population is large enough to survive commercial hunting.
© Copyright IBTimes 2023. All rights reserved.
FOLLOW MORE IBT NEWS ON THE BELOW CHANNELS