Japan's Prime Minister Shinzo Abe Visits Russia For Talks On Island Dispute, Energy Ties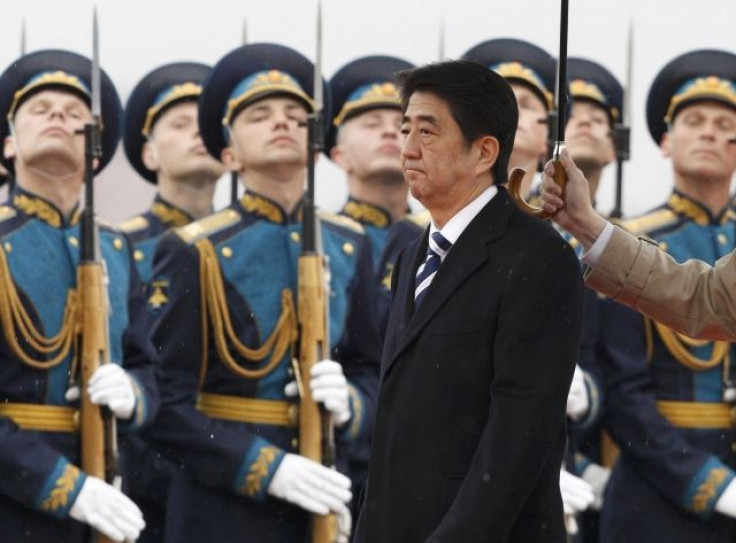 Japanese Prime Minister Shinzo Abe is in Russia on Monday on the first leg of an "economic diplomacy" tour spanning Russia, Turkey and the Middle East aimed at building business ties. This is the first visit by a Japanese premier to Russia in a decade.
Ahead of the visit, Abe said he wanted to build "a trusted personal relationship" with Russian President Vladimir Putin.
He added that he wanted to revive talks on a post-war peace deal, which has so far been marred by a territorial row.
The two nations never formally signed a peace treaty after World War II and ties have been particularly strained by a dispute surrounding four islands north of the Japanese island of Hokkaido, known in Russia as the Southern Kurils and in Japan as the Northern Territories.
Russia has controlled the islands since Soviet troops seized them from Japan at the end of World War II.
Russian Prime Minister Dmitry Medvedev has visited the islands twice in recent years sparking Japanese fury.
"I will work on boosting Japan-Russia relations so that this visit will mark a restart in stalled negotiations over a peace treaty," Abe said ahead of his flight to Moscow, AFP news agency reported.
The Kremlin, in a statement released by Putin's press service ahead of the visit, said that Russia believed that "dialogue in the interests of arriving at a mutually acceptable solution must be held in a calm, respectful atmosphere," the AFP report stated.
The talks in Moscow are also expected to focus on energy, as Japan works to diversify its energy supply after the Fukushima nuclear disaster left almost all of its nuclear reactors suspended, the BBC reported.
Japan is already a major importer of liquefied natural gas, including from the Russian Far East island of Sakhalin.
Abe will also visit Turkey, where Japan is hoping to seal a deal to export nuclear technology, Saudi Arabia and the UAE.
© Copyright IBTimes 2023. All rights reserved.