Jets' New Quarterback Could Follow Peyton Manning Blueprint, Suggests Coach
KEY POINTS
Zach Wilson recorded unimpressive numbers in his first Jets scrimmage
Robert Saleh says that rookie struggles are common in the NFL
Wilson is keeping himself motivated to improve
New York Jets head coach Robert Saleh was on point in his backing of Zach Wilson.
In his debut at MetLife Stadium on Saturday, Jets' rookie quarterback Wilson has had fans concerned as he put on an underwhelming performance in his first ever scrimmage with the team.
The No. 2 overall draft pick threw almost three interceptions and completed just 11 of 24 passes for 112 yards against the first-team–a result clearly not what the Jets were expecting from Wilson, considering the months of preparation, ESPN reported.
Addressing the subject in a recent press conference, Jets coach Saleh shut down the media's criticisms and stressed that Wilson is currently in a steep learning curve.
What's even more interesting, Saleh even emphasized that Wilson's rookie struggles don't dictate his future in the sport while making a reference to NFL Hall of Famer Peyton Manning, who recorded 28 interceptions and garnered 71.2 passer rating in 1998 for the Indianapolis Colts .
"For most rookies, especially on the offensive side of the ball and everyone, it's going to get worse before it gets better," Saleh told reporters of Wilson Monday. "It is what it is. It's just a lot of things that happen. There's a reason being a rookie is hard in this league."
"There was a Hall of Famer yesterday that was inducted that had a 71 quarterback rating in his rookie year," he continued. "It's not easy to play quarterback in this league as a rookie — especially quarterback," he explained. "But it is going to get worse before it gets better, but he's at that point where he's going to be able to stack up days and we got all the utmost confidence in him and his ability to figure out the mistakes and correct them and get to a better place."
Despite Wilson's poor start, Saleh implied that he has zero doubts on his quarterback's dedication.
"The biggest learning jump for him [Wilson] was that it was under the lights, there was a bigger crowd," the coach said after the two-hour session on Saturday. "It wasn't necessarily a bigger moment, because you want them all to be the same, but I'm sure the young man wanted to do his absolute best. There are a lot of things he can take from this one, and it will be awesome to see him grow from it."
Though disappointed of himself, Wilson is maintaining a positive mindset about it, having understood the responsibility of being a Jets quarterback.
"Not great," Wilson admitted of his performance. "I have high expectations for myself and this offense. I have to lead the guys and I have to make better decisions. That's why this isn't Game 1; that's why we're doing this. I understand that. Of course I'm going to be frustrated with myself, but I'm going back to the film room and find out what I can learn."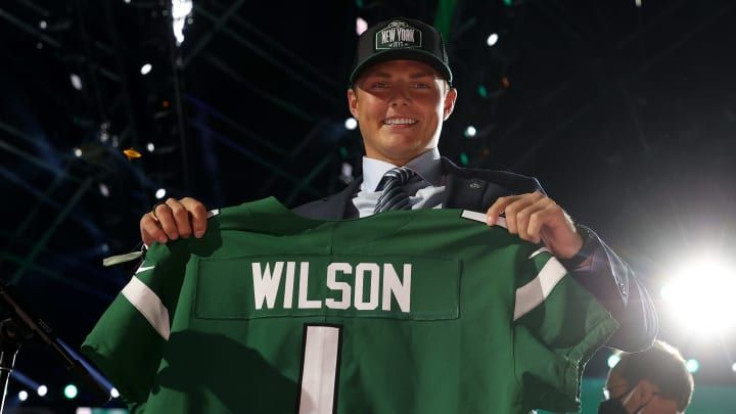 © Copyright IBTimes 2023. All rights reserved.