Johnny Manziel News: Police Investigating QB After Ex-Girlfriend Details Violent Incident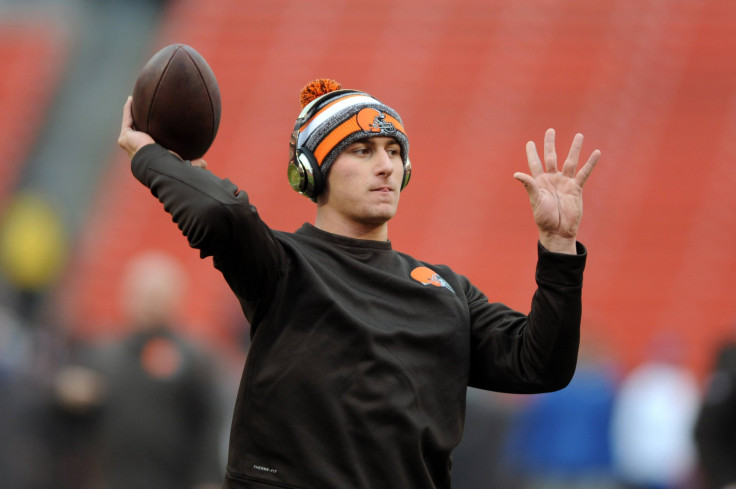 More troubling details about Johnny Manziel's allegedly violent incident with ex-girlfriend Colleen Crowley continue to emerge. The Cleveland Browns quarterback reportedly got into a physical altercation with Crowley that left the 23-year-old injured.
According to Crowley, she met Manziel in his room at Hotel Zaza in Dallas on the night of Jan. 29. After the two got into an argument, Crowley claims the NFL player threw her on his bed and wouldn't allow her to leave. Manziel then allegedly forced her into his car, later throwing her back in the vehicle after she escaped. Manziel drove Crowley to her apartment in Fort Worth, and Manziel allegedly ran out of the apartment when Crowley pulled out a knife because she feared for her own life.
Crowley's attorney, Kathy Kinser, told NBC5 that Manziel's ex-girlfriend suffered a ruptured left eardrum during the altercation. Kinser says the injury will heal, but it could take a while.
"He hit me with his open hand on my left ear for jumping out of the car. I realized immediately that I could not hear out of that ear, and I cannot today," Crowley stated in an affidavit that was filed on Feb. 3, seeking protection against Manziel.
The case against Manziel was re-opened by Dallas police on Friday, and authorities in Forth Worth are also investigating the incident. Manziel agreed to the protective order filed by Crowley, and it forbids him from seeing her for two years while forcing the quarterback to pay his ex-girlfriend's attorney's fees of $12,500.
Crowley claims that Manziel threatened her on the night of the alleged incident, and even said he would kill himself.
"I thought maybe he was on drugs or having a psychotic break so to keep him calm I began telling him, 'I love you. We can figure this out. We can talk,'" she said.
Manziel's NFL future is very much in doubt following the latest incident. His agent broke ties with him on Friday, and the Browns will reportedly release him in March. But he'll have to get his personal life in order before he can step back on the field, as possible charges or a league suspension could await him.
Prior to the Super Bowl, Manziel's father told The Dallas Morning News that he feared his 23-year-old son might not live to see his 24th birthday. Paul Manziel said he tried to get his son to enter a rehab facility, but the quarterback refused.
According to Mike Silver of NFL.com, Manziel showed up drunk to practice on a Wednesday during the season, and Cleveland lied and claimed he was in the concussion protocol. Manziel went to rehab in February of last year.
Multiple NFL players have since publicly reached out to Manziel, including Super Bowl MVP Von Miller.
© Copyright IBTimes 2023. All rights reserved.