Kim Jong Un Calls For More Satellites In Space After North Korea's Kwangmyongsong-4 Launch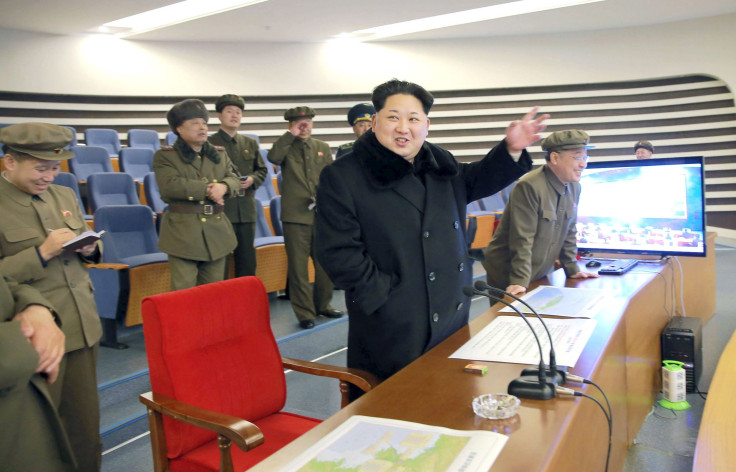 North Korean leader Kim Jong Un called for more satellites in space amid international outcry over Pyongyang's rocket-launch last week, state media reported Monday. Although the North maintains that the Kwangmyongsong-4 is an Earth observation satellite, world powers view the launch as a disguise for developing an intercontinental ballistic missile (ICBM) equipped to mount a nuclear bomb.
Kim made the comments on more satellites at a banquet held to congratulate the scientists, technicians and officials involved in the Feb. 7 launch, the official Korean Central News Agency reported. He urged the scientists to use the success as "a springboard for greater victory and thus launch more working satellites," according to KCNA.
The North Korean leader also noted that the launch of the satellite came during a "complicated situation, in which the hostile forces were getting evermore frantic to suffocate" the country, the report added. Kim also stated that the mission gave confidence and courage to the North's citizens and "dealt a telling blow to the enemies seeking to block the advance" of North Korea.
Following the satellite launch, which came a month after Pyongyang said it had successfully tested a hydrogen bomb, the United Nations Security Council members are trying to work out additional sanctions against the country. The U.S. House of Representatives also passed a bill Friday approving tougher sanctions against North Korea. Japan announced fresh sanctions last Wednesday, expanding restrictions on travel between the two Asian countries. The sanctions also included a complete ban on visits by North Korean ships to Japanese ports.
On Sunday, Yonhap New Agency reported, citing sources, that Pyongyang created a new unit that can deploy a road-mobile ICBM. The unit "KN-08 Brigade," named after the missile of the same name, is a part of the Strategic Force that supervises all the missiles in North Korea. Sources also told Yonhap that the move indicates that North Korea may soon be able to field the road-mobile ICBM.
© Copyright IBTimes 2023. All rights reserved.