Kim Jong Un Gaining Weight: North Korean Leader's Excessive Drinking Continues, Report Says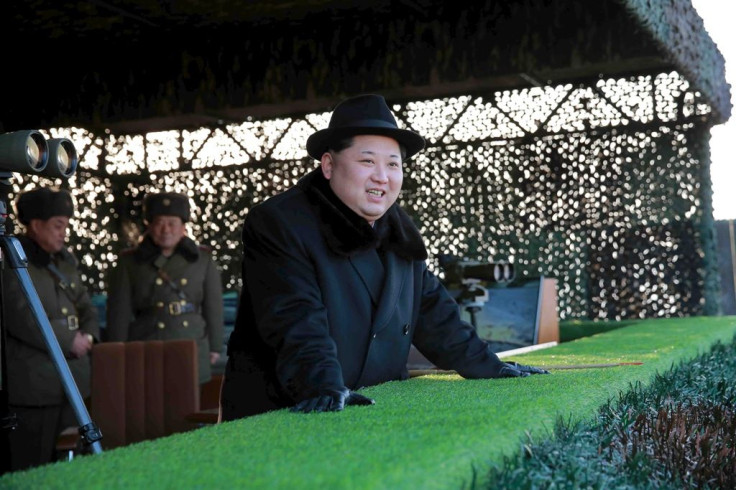 North Korean leader Kim Jong Un continues to gain weight because of his excessive consumption of Swiss cheese and French wine, according to a report. Last week, South Korea's National Intelligence Service (NIS) reportedly said during a parliamentary briefing that Kim's health has not improved since July, and he currently weighs 290 pounds.
Kim's weight gain started since he fully assumed power in 2012, following his father's death in December 2011. At the time, Kim reportedly weighed 200 pounds. South Korean television network KBS recently reported the Kim family's former sushi chef Kenji Fujimoto claimed that North Korea's supreme leader hasn't stopped enjoying fine cuisine.
Fujimoto, who has known the Kims since 1982, reportedly said that Kim drank an expensive Bordeaux wine during dinner with the Japanese national in April. Kim also boasted that he had consumed "10 bottles of Bordeaux" a few days prior to the meal.
The North Korean leader enjoys consuming Emmental, a medium-hard Swiss cheese, KBS reported, adding that in 2014 he sent his officials to learn the cheese-making techniques at a French culinary school after North Korean chefs failed to reproduce the same flavors he had tasted in Switzerland while he was studying there.
According to reports, Kim's older brother Kim Jong Chul has also struggled with alcohol-related issues. The NIS reportedly said that Kim Jong Chul engages in violent behavior when drunk. The spy agency said he destroyed bottles in a hotel room after excessive drinking in 2015.
Fujimoto told KBS that Kim Jong Chul would have succeeded his father but the former North Korean leader criticized his oldest son for being "like a girl."
© Copyright IBTimes 2023. All rights reserved.