Kyle Kuzma Contract, Net Worth: Ex-Laker Earned This Little In First 4 Seasons
KEY POINTS
Kyle Kuzma has an estimated net worth of $3 million
He signed a deal with Nike that paid him $25,000 a year when he was a rookie
He later inked a more lucrative endorsement deal with Puma worth around $15 million
Kyle Kuzma is set to earn $40 million for the next three seasons, but he made less than a quarter of that amount in his first four years in the NBA.
After being selected No. 27 overall by the Brooklyn Nets in the 2017 NBA Draft, Kuzma was immediately traded to the Los Angeles Lakers with Brook Lopez for D'Angelo Russell and Timofey Mozgov.
He signed a rookie scale contract with Los Angeles in 2017 and was paid $5 million in his first three seasons with the team, according to Spotrac. The 26-year-old Michigan native got a raise for the 2020-21 season, having earned $3.6 million. This puts his four-year total at $8.6 million.
It was reported in December 2020 that the Los Angeles Lakers signed the forward to a three-year extension deal worth nearly $40 million and included a player option for the 2023-24 season. He is set to receive $13 million a year for the duration of the contract.
However, the Lakers recently agreed to a trade deal that would send Kuzma, Kentavious Caldwell-Pope, Montrezl Harrell and the No. 22 pick in Thursday night's NBA Draft to the Washington Wizards in exchange for superstar Russell Westbrook, their 2024 second-round pick and 2028 second-round pick, The Athletic reported.
The deal means the nine-time All-Star, nine-time All-NBA selection and 2017 MVP is returning home to California and joining LeBron James and Anthony Davis to form the newest NBA "super team." The trade deal between the Lakers and the Wizards can't be officially announced until Aug. 6, when the salary cap becomes official.
Meanwhile, aside from his basketball salary, Kuzma — who is estimated to be worth $3 million according to Celebrity Net Worth — also makes a considerable amount from endorsement deals.
As a rookie, Kuzma signed a deal with Nike that paid him a base salary of $25,000 a year, according to ESPN.
But in 2019, Kuzma inked a five-year deal with Puma that pays him $3 million per season, Marc Stein of The New York Times reported. Silver Screen and Roll noted at the time that he had the lowest annual salary of anyone who averaged at least 18 points per game in the 2018 NBA season.
Kuzma also signed a multiyear extension of his footwear and apparel endorsement partnership with the GOAT ("Greatest Of All Time") app last year, ESPN reported. The digital sneaker marketplace has more than 20 million users and 1 million listings across 164 countries.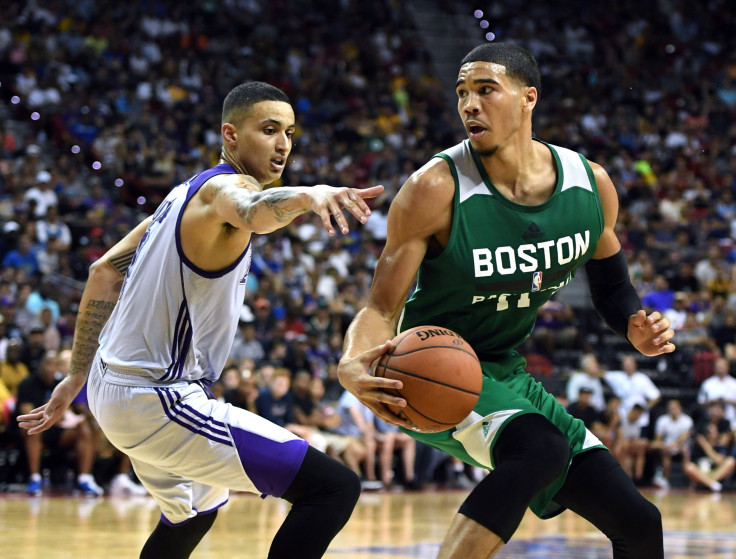 © Copyright IBTimes 2023. All rights reserved.