Lakers Rumors: Mike Brown and Andrew Bynum On Good Terms Despite their Difficulties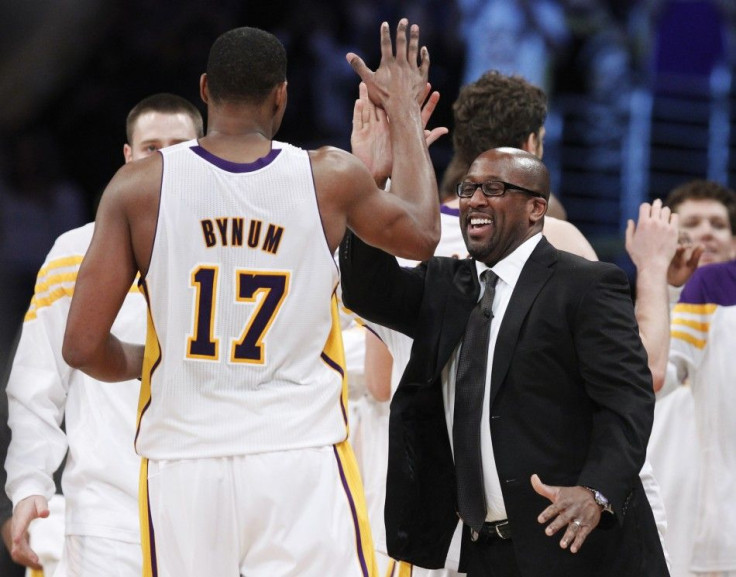 Mike Brown and Andrew Bynum have had a bit of a rocky road through the first four and a half months of their relationship.
Bynum got upset early in the season when Brown kissed him after a big win early in the season. Two weeks ago, Bynum took a three pointer against Golden State and was benched for the remainder of the second half. The big man was so upset he refused to join the huddle for the rest of the game.
I don't know what was bench-worthy about that shot, Bynum said after the game. I guess 'don't take threes' is the message, but I'm going to take another one and I going to take some more, so I just hope it's not the same result. Hopefully, I make it.
Brown and Lakers management have had their issues with Bynum as well. The fined him an undisclosed amount in late March for unprofessional behavior that included skipping a meeting with General Manager Mitch Kupchak.
But when Brown was asked about their relationship on Friday he seemed the think all was well.
Are we on good terms? I hope we've never been on bad terms, he said. I feel like we have a good coach-player relationship, a good person-to-person relationship. I feel like he's respectful to me. I hope he feels that I'm respectful to him.
But even with that said, Brown acknowledged that there have been issues between him and his 24-year-old center.
I've got to let him grow some too, he said. I've dealt with a lot of different types of people. I don't think you can take everything that one individual does and make a big deal out of it. People have to kind of find their own way at times. You can help them here or there and as long as it doesn't affect or hurt the team, then I'm OK with it.
There's some stuff that he might have done or said but, hey, it's part of the growth process. Some things we've talked about, some things we haven't talked about. But definitely not everything that has come across his plate we've discussed.
It certainly hasn't been the most auspicious start to their professional relationship, but Brown is clearly acknowledging that he must treat Bynum with kid gloves. He's been an attitude problem and occasionally looks like he isn't giving 100 percent effort, but any player who can grab 30 rebounds and score 30 points in consecutive games must be given leeway.
Brown has dealt with big personalities in his locker room before; he coached the Cavaliers with LeBron James prior to his stint with the Lakers. With the Lakers, he will need that skill and practice as he tries to juggle their many egos.
© Copyright IBTimes 2023. All rights reserved.