Laquan McDonald Shooting: Chicago Releases New Video From Burger King Store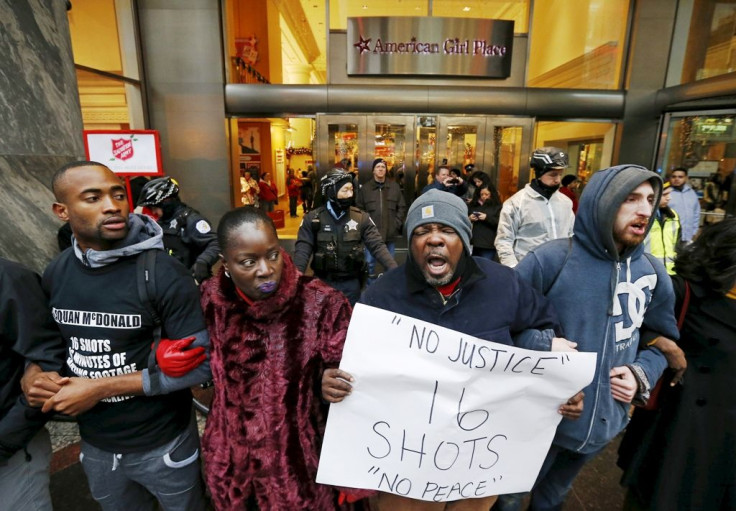 Chicago released a new video Thursday evening related to last year's fatal shooting of Laquan McDonald, the Associated Press reported. The video footage was taken from a Burger King outlet near the scene of the shooting, according to the AP.
The video was released after the Chicago Tribune made a request for it, the AP reported. The fast food outlet's manager said last week that he testified before a grand jury about the possibility that police had erased the restaurant's surveillance tape and said the FBI confiscated the restaurant video recorder containing all of its surveillance images.
Prosecutors have alleged that Chicago police tried to tamper the surveillance video. However, former police superintendent Garry McCarthy and Cook County state's attorney have denied the allegations. On Tuesday, Chicago Mayor Rahm Emanuel announced McCarthy had been removed from his position.
The Tribune reported Thursday, according to AP, that the video from 12 camera angles in and outside Burger King has an 80-minute gap, including the time of the shooting. No audio can be heard in the footage, which reportedly shows an officer sitting in front of a computer and another one walking around.
Earlier in the day, the Tribune reported that officer Jason Van Dyke, who has been charged with fatally shooting McDonald 16 times in October 2014, might be involved in an alleged cover-up of another fatal police shooting a decade ago, court records of an open civil lawsuit against the city showed. Van Dyke admitted in a deposition that he copied the work of fellow officers at the scene of a 2005 shooting incident, making his official report match theirs without conducting his own witness interviews.
Last Wednesday, the city released four dashboard camera videos of the 17-year-old black teenager's shooting. While the shooting itself was not in the frame, the videos reportedly showed McDonald on the street following the incident, alive just before medical help arrived at the scene. One of the videos reportedly includes one from Van Dyke's car.
After a court ordered the release of another dashcam video of the shooting that showed the incident protesters took to the streets, criticizing the length of time it took for officials to make the footage public and charge Van Dyke with first-degree murder.
© Copyright IBTimes 2023. All rights reserved.