Leafs rout Capitals as Ovechkin slump continues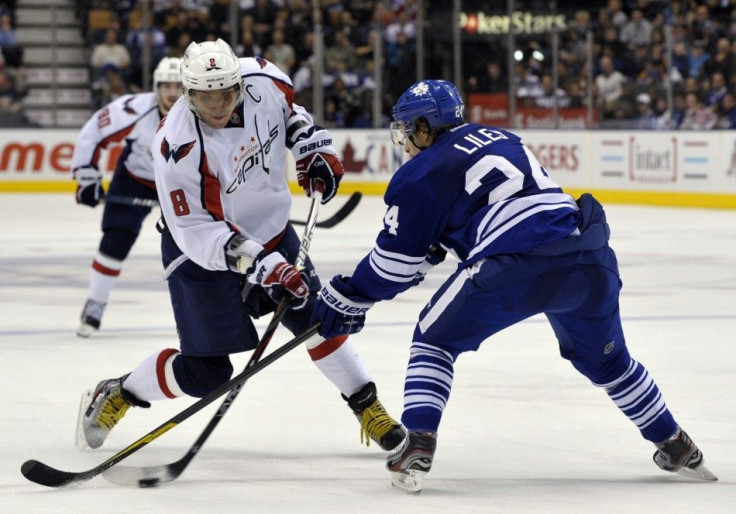 There were plenty of offensive fireworks in the Toronto Maple Leafs 7-1 thrashing of the Washington Capitals on Saturday but none of them off the stick of misfiring sniper Alexander Ovechkin.
Phil Kessel notched his league leading 14th of the season, Joffrey Lupul had a goal to go along with three assists and Matt Frattin and Cody Franson notched their first of the season to help pull the Leafs out of three game tailspin.
But on another miserable night that saw the faltering Capitals absorb a fourth straight defeat it was Ovechkin's struggles that continue to draw more concern.
Toronto had often been a happy hunting ground for the Russian sniper, notching 23 goals and 39 points in 24 games.
But Ovechkin's magic touch around the net has disappeared as the Great Eight was kept off the score sheet for the fourth straight game.
Right now no one is scoring, which is frustrating, when we have an opportunity to shoot we're squeezing the sticks too hard, Ovechkin told reporters. It's something you have to fight through.
You have to work harder than you usually do.
Through 18 games Ovechkin has just seven goals and has found the back of net just once in his last six contests.
Not bad for a journeyman NHLer but well below the standard expected of a player who usually sends netminders into cold sweats when he has the puck on his stick.
Certainly, it is not the type of production fans have come to expect from a player with two Maurice Richard trophies as the NHL's top goal scorer and two Hart trophies as the NHL's most valuable player.
Despite their current woes, Capitals coach Bruce Boudreau assured both Ovechkin's scoring slump and the team's losing streak would soon be coming to an end.
We just have to work hard, we'll get out of it, said Boudreau. We couldn't buy a goal at the end and that gets really frustrating after awhile.
It feels like the end of the world but it's not.
There is an improvement that is needed from top to bottom.
Maple Leafs Tim Connolly opened the scoring picking the top corner on Washington netminder Tomas Vokoun only to have Brooks Laich answer for the Capitals just 51 seconds later.
But Toronto would take a 2-1 lead into the first intermission on Frattin's first career goal then seized control in the second pumping four goals, including three power play tallies into the Washington net.
Tyler Bozak sparked the second period surge with a power play goal before Kessel converted a pretty feed from Lupul to put the home side up 4-1.
Boudreau, unimpressed with Vokoun, pulled his netminder for Michal Neuvirth but the Leafs showed no mercy, Lupul and Franson scoring on the man advantage to make it 6-1 after two.
David Steckel had the only goal of the final frame completing the rout in style scoring on shorthanded breakaway.
© Copyright Thomson Reuters 2023. All rights reserved.