At Least 48 Killed In Suspected Somali Militant Attack In Kenyan Coastal Town Of Mpeketoni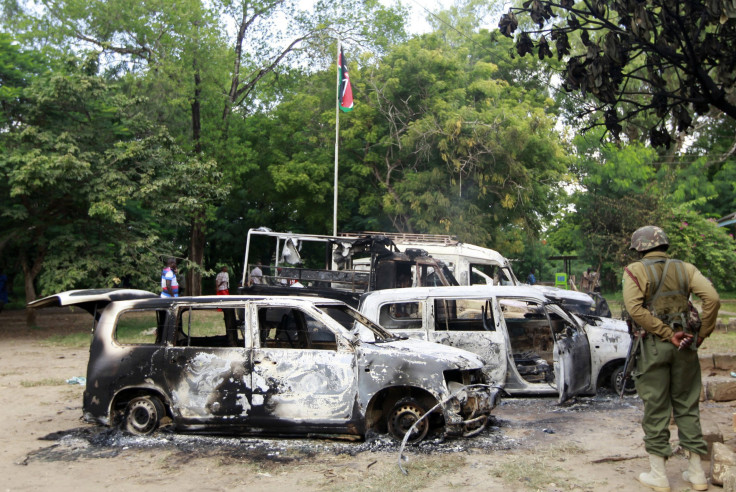 At least 48 people were killed Sunday night after suspected Somali militants attacked hotels and a police station in a small Kenyan coastal town, officials said Monday.
Kenya's top police commander, David Kimaiyo, reportedly said that a group of gunmen targeted two hotels, a bank and a police station in the town of Mpeketoni, located about 30 miles southwest of the popular tourist island of Lamu, and about 60 miles west of the Somalia border.
"So far we can confirm that 27 people were killed in the attack. Our officers are still looking for more bodies and this number could rise," Kimaiyo told Reuters, while other media reports claimed that at least 48 people have been killed. "It is difficult to account for the local residents for now because many of them ran to hide in the forest to escape the attackers," Kimaiyo said, according to Los Angeles Times.
Authorities reportedly suspect that al-Shabab, Somalia's terror group, which has been linked to al-Qaida, could be behind the terror attack, though no group has claimed responsibility yet. The attack, which continued for several hours broke out at approximately 8 p.m. local time when the town's cafes and bars were reportedly full of people watching the soccer World Cup on television.
According to reports, gunmen threw explosives at the police station and stole several weapons, following which they set several local hotels on fire.
"They raided Mpeketoni police station first," local police chief Hamaton Mwaliko reportedly said. "Some hotels in the town are on fire. We don't know how many casualties are there for now. We understand the attackers have already fled, but our officers are pursuing them."
Kenya has faced a string of attacks by suspected Islamist militants since 2011 after troops were deployed in neighboring Somalia to combat al-Shabab insurgents. The militant group previously claimed responsibility for the attack at the Westgate Mall in Nairobi, the capital and largest city of Kenya, in September, which killed at least 67 people.
© Copyright IBTimes 2023. All rights reserved.
FOLLOW MORE IBT NEWS ON THE BELOW CHANNELS