LeBron James Should Keep Shooting: Kobe Bryant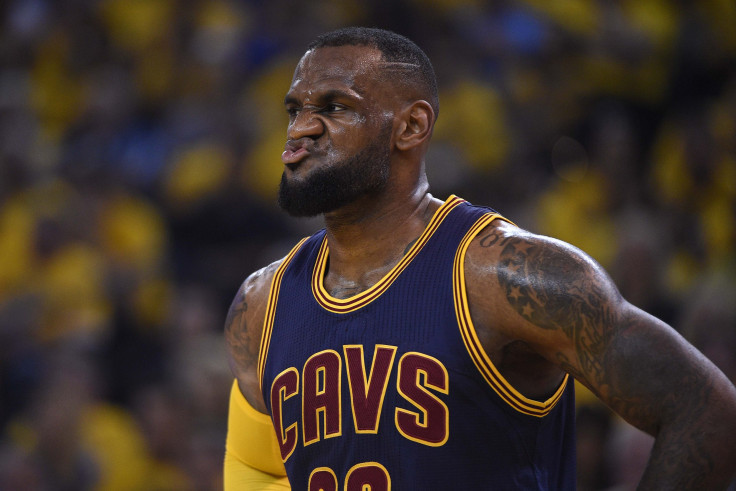 Los Angeles Lakers superstar Kobe Bryant is no stranger to taking 20 to 30 shots a game. So as he closely follows the 2015 NBA Finals, he has offered words of encouragement to Cleveland Cavaliers small forward LeBron James, who is attempting close to 36 shots per game through the first three games of the best-of-seven series.
Bryant, a five-time NBA champion, is currently in China for a promotional tour. But that did not preclude him from offering his two cents to James, a four-time Most Valuable Player. Bryant said that James should continue to "let it fly" in his latest post on Twitter.
The 30-year-old James is setting all types of scoring records with just a few games tucked into the series. The Akron, Ohio, native has already scored the most points in NBA Finals history through three games with 123. But the two-time champion needed 36 shots per game to get there -- surpassing the previous records of Michael Jordan (32.6 field goal attempts, 1993) and Allen Iverson (32.4 FGAs, 2001). The scoring load of James is blatantly glaring that his 64 total field goals missed is already higher than Stephen Curry's 63 total field goal attempts.
The highly observant Bryant stated that James needs to continue with his mindset as he anticipates Golden State to adjust its game plan for the Cavaliers star. The Lakers' highest paid player added that the Cavaliers appear to be the hungrier team and that the Warriors need to counter James' control of the game in order to have a chance of winning.
"Golden State will have to figure out how to defend LeBron on the mid-post, the elbow isolations, because he's given them all kinds of problems from that," he said. "Not necessarily scoring the ball, but creating double teams and getting shooters open shots on the weak sides."
Watch Bryant share his thoughts on the NBA Finals in his interview below:
(YouTube/Kobe Team)
© Copyright IBTimes 2023. All rights reserved.