List Of 53 Countries That Support China's Hong Kong National Security Law
KEY POINTS
Only 27 countries criticized the new national security law imposed on Hong Kong by China
China's backers include world's dictatorships including North Korea, Saudi Arabia, and Syria
The motivation for about 40 signatories favoring China may be linked to the latter's multi-trillion-dollar endeavor called the Belt and Road Infrastructure project
China's foreign ministry and state media are declaring a victory of sorts with their latest move -- the new national security law imposed on Hong Kong. Fifty three countries have backed the law, while just 27 criticized it. The critics cited harsh penalties for vaguely defined political crimes and claimed it was the death knell for Hong Kong's autonomy.
Opposing statements were made Tuesday during the United Nations Human Rights Council (UNHRC) session held in Geneva. The statements were read by Cuba's representative supporting China and the United Kingdom representing the critics.
The United States had withdrawn from the UNHRC, which is aimed at promoting and protecting human rights around the world, in June 2018, claiming the council was "hypocritical and self-serving".
On April 1, 2020, China was appointed to a UNHRC panel where it will play a key role in picking the world body's human rights investigators. Because the council deals with topics like freedom of speech, health, enforced disappearances, and arbitrary detention, some may have thought this to be an April Fools joke. Unfortunately, it was not, and the appointment has sparked protests by international human rights activists.
American news website AXIOS was able to obtain a list of the countries that are aligned with China on the Hong Kong national security law and those that oppose it.
The supporting countries: China, Antigua and Barbuda, Bahrain, Belarus, Burundi, Cambodia, Cameroon, Central African Republic, Comoros, Congo-Brazzaville, Cuba, Djibouti, Dominica, Egypt, Equatorial Guinea, Eritrea, Gabon, Gambia, Guinea, Guinea-Bissau, Iran, Iraq, Kuwait, Laos, Lebanon, Lesotho, Mauritania, Morocco, Mozambique, Myanmar, Nepal, Nicaragua, Niger, North Korea, Oman, Pakistan, Palestine, Papua New Guinea, Saudi Arabia, Sierra Leone, Somalia, South Sudan, Sri Lanka, Sudan, Suriname, Syria, Tajikistan, Togo, UAE, Venezuela, Yemen, Zambia and Zimbabwe.
The opposing countries: Australia, Austria, Belgium, Belize, Canada, Denmark, Estonia, Finland, France, Iceland, Ireland, Germany, Japan, Latvia, Liechtenstein, Lithuania, Luxembourg, Marshall Islands, Netherlands, New Zealand, Norway, Palau, Slovakia, Slovenia, Sweden, Switzerland, and the U.K.
The biggest divide is between countries with a good "free" rating and those rated as "not free" or "partially free". The ratings are made by Freedom House, a U.S. government-funded non-profit organization that conducts research and advocacy on democracy, political freedom, and human rights.
China's backers include many of the world's dictatorships including North Korea, Saudi Arabia, and Syria. Three small free countries, Antigua and Barbuda, Dominica, and Suriname with a combined population of fewer than 1 million people also supported Beijing.
The motivation for about 40 signatories favoring the end of Hong Kong's autonomy may be linked to China's multi-trillion-dollar endeavor called the Belt and Road Infrastructure project that will offer vast amounts of financial aid and loans to poor countries.
The COVID-19 pandemic has a role as well because many African countries might use their approval of the Hong Kong law to renegotiate debt payments to China while their economies recover from the disease related downturns.
Critics of the law are mostly free European countries and major democracies like Australia, Canada, and Japan.
Many voices critical of the new law are being heard:
Keith Harper, the U.S. representative to UNHRC from 2014 to 2017, said some countries voted in favor of China because "they will get better deals if they are in the good graces of China," and "there's no detriment there because the U.S. isn't at the table"
Sophie Richardson, China Director at Human Rights Watch, said China is attempting to silence critics of its record on human rights plus "change the norms and the protocols of these institutions so that no state really can be held accountable." She said, "One interesting question to ask is, 'Who's not on that list who has been on China's team in the past, and why?'"
AXIOS's Bethany Allen-Ebrahimian noted, "Beijing has effectively leveraged the UNHRC to endorse the very activities it was created to oppose"
China's foreign ministry commented on the U.K.'s decision to offer citizenship to eligible Hongkongers by saying the country would "bear the consequences that will arise from this."
India, who recently banned Chinese mobile apps, offered a statement "expressing concern," about the law that was taken as a signal of its growing willingness to confront China.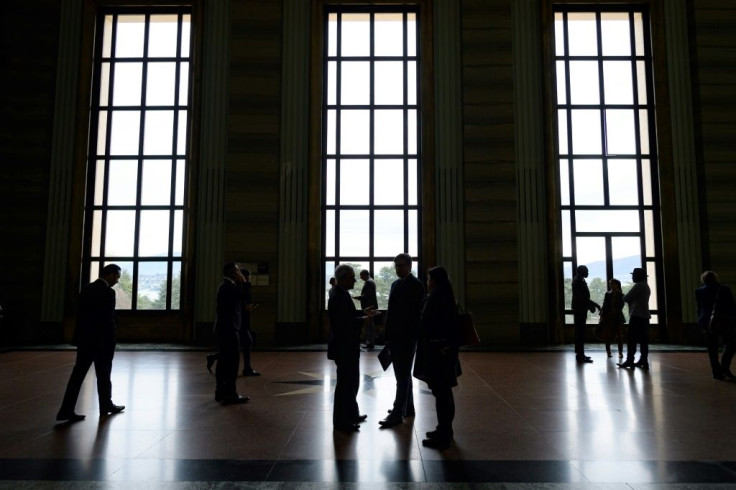 FOR FREE to continue reading
✔️ Unlock the full content of International Business Times UK for free
offer available for a limited time only
✔️ Easily manage your Newsletters subscriptions and save your favourite articles
✔️ No payment method required
Already have an account?
Log in
© Copyright IBTimes 2023. All rights reserved.