Liverpool vs. Chelsea 2016: Prediction, Team News, Preview For Premier League Clash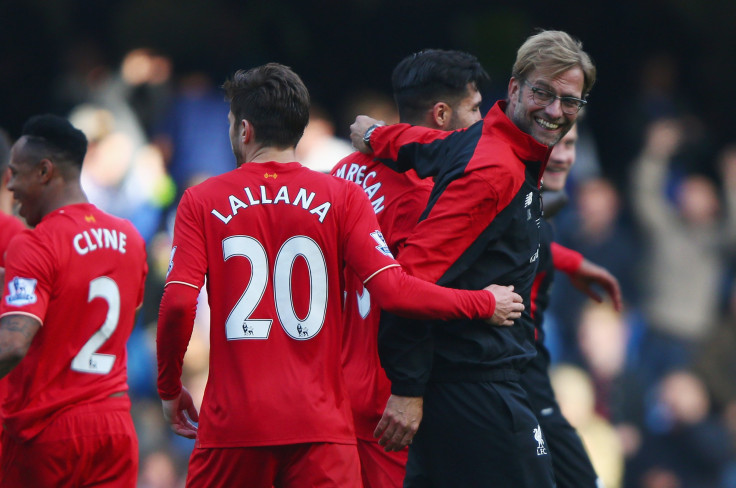 Neither Liverpool nor Chelsea will have envisaged going into their penultimate match of the Premier League season with little tangible to play for. For Liverpool, there is still the possibility to confirm a place in the Europa League for next season, while Chelsea can earn a place in the Premier League's top half. But currently sitting in ninth and 10th place, the season hasn't exactly panned out the way either club will have expected.
Both, of course, go into the contest with a different man in charge than they began the season with. At Anfield, Brendan Rodgers was replaced by Jurgen Klopp back in October, and, despite notable wins over Manchester City, twice, and Chelsea, the Premier League season has largely been a write off. Still, for Liverpool supporters, there is nonetheless plenty to be excited about.
Indeed, for Klopp, the struggle will be to keep the minds of both the players and the fans on the game against Chelse, and on the final day of the Premier League season on Sunday at West Brom, ahead of the Europa League final against Sevilla next Wednesday. While a return to the Europa League remains attainable through the league, winning the competition this season offers the prize of a treasured place in the Champions League.
That would only further bolster the optimism around Anfield, which is already high after witnessing the performances Klopp has garnered from a far form outstanding squad in beating Borussia Dortmund and Sevilla.
Chelsea will also be eager for the Premier League season to come to an end, although for slightly different reasons. While for Liverpool it can be seen as a season of transition, for Chelsea the campaign has long been a write off. Officially dethroned as Premier League champions by Leicester City on Saturday, Chelsea began the season with one of the most wretched title defenses in history. Having waved goodbye to Jose Mourinho in December, Chelsea's campaign has long been about salvaging the remnants from a wasted season.
While interim manager Guus Hiddink has steadied the ship and guided Chelsea safely into midtable, the underperformance of a squad that romped to the title last season remains perplexing. Never was that more evident than in the match with Tottenham last week. Having limply fallen 2-0 behind in the first half, Chelsea were a team transformed in the second, and led by Eden Hazard, the player whose performances have regressed more than any other this season, they mounted a stirring fight back to claim a 2-2 draw and end their London rivals' title hopes.
That they then went and lost 3-2 to relegation threatened Sunderland on Saturday only reinforced the perception that Chelsea are for the most part now on autopilot. Much will change next season, with current Italy coach Antonio Conte arriving this summer. Yet, just how the notable disciplinarian will feel about seeing the squad he will inherit going through the motions to such a degree remains to be seen. It seems unlikely that the new manager will be the only change at Stamford Bridge next term.
One of Conte's first major decisions, if indeed he has much say in it, will be whether to offer John Terry a new contract. If that doesn't happen, and the indications so far are that it won't, then the Chelsea captain has already played his last game for the club, having been shown his second red card of the season against Sunderland which means he will miss the final two games.
It means the last remnant from either team of the fiercely contested battles between Chelsea and Liverpool, notably in the Champions League, in the mid-part of the last decade, will not be in action on Wednesday. Still, several faces remain from their meeting at Anfield two years ago, when Chelsea famously won 2-0 to cost Liverpool the title. Perhaps the memories of that rivalry will inspire both teams into a fully-committed display in a game that has little else riding on it.
Team news
Liverpool: Klopp has suggested he will field his strongest team on Wednesday. That means that Nathaniel Clyne, Kolo Toure, Dejan Lovren, James Milner, Emre Can, Adam Lallana and Daniel Sturridge could all return after being rested in Sunday's 2-0 win over Watford. Divock Origi and Jordan Henderson remain ruled out.
Chelsea: Hiddink has a fitness doubt over Branislav Ivanovic, potentially leaving him without his two most experienced defenders.
Prediction: Liverpool swept Chelsea aside at Stamford Bridge earlier in the season and their intensity could prove too much for the London side once again. With Liverpool's key players having been rested from their Europa League semifinal second leg win over Villarreal and likely to be rested again on Sunday ahead of the final, they should be able to play with the pace and verve that will prove too much for a Chelsea team just waiting for the season to end.
Predicted score: Liverpool 2-1 Chelsea
© Copyright IBTimes 2023. All rights reserved.