Lockerbie Bombing: Two Libyans Identified As New Suspects In Pan Am Flight 103 Attack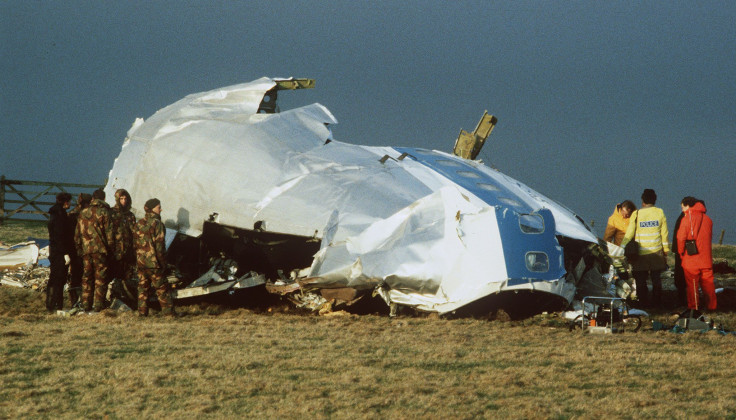 Two Libyans have been identified as new suspects by Scottish and U.S. investigators in the bombing of a Pan Am plane over Lockerbie, Scotland, almost 27 years ago, authorities said Thursday. Prosecutors reportedly want investigators to interview the two suspects in the Libyan capital of Tripoli.
According to Scottish prosecutors, the two suspects are believed to be involved, along with Abdel Baset al-Megrahi, the only person convicted in the attack so far. The pair has been identified as Abu Agila Mas'ud and Abdullah al-Senoussi, according to the BBC.
Al-Senoussi was the brother-in-law and intelligence chief of former Libyan dictator Moammar Gadhafi, according to reports, and is currently awaiting execution in a Libyan prison. Mas'ud is reportedly serving a prison sentence in Libya for bomb making. Their current prison sentences are not related to the Lockerbie bombing.
"The lord advocate [Scotland's chief prosecutor] and the US attorney general have recently agreed that there is a proper basis in law in Scotland and the United States to entitle Scottish and US investigators to treat two Libyans as suspects in the continuing investigation into the bombing of flight Pan Am 103 over Lockerbie," a spokesman for the Crown Office said, according to the Guardian.
On Dec. 21, 1988, as many as 270 people died after Pan Am Flight 103 was blown up while on its way from London to New York. The plane exploded over Lockerbie, southern Scotland, and among the dead were 11 people on the ground.
The attack took place two years after the U.S. conducted a series of airstrikes against Libya that nearly killed the then-leader Gadhafi. In 2003, Gadhafi accepted his country's responsibility for the bombing and agreed to pay $2.7 billion in compensation to the victims' families.
Al-Megrahi, also a former Libyan intelligence officer, was convicted in 2001 of planting the bomb and sentenced to 27 years in prison. He was released by Scotland's government on compassionate grounds eight years later after being diagnosed with terminal cancer. Al-Megrahi died in Libya in 2012.
On Thursday, the Associated Press (AP) reported that documentary filmmaker Ken Dornstein, who lost his brother in one of the worst terrorist attacks against American citizens, looked into critical details of the Lockerbie bombing. He reportedly searched files kept by the FBI, the former East German police and a jail in Libya to come up with a list of eight to 10 names of individuals who seemed to have played a role in the bombing, but have never been indicted.
"My idea was a pretty simple idea -- to go with a list of names, start knocking on doors and find out who these persons were and would any of them tell me the truth," Dornstein told AP. "By my count there were three people left alive who I believe played a role in it and who I was focused on trying to identify and find.
"I feel like I pushed it as far as I could as a filmmaker and now it's up to governments to do the actual administration of justice," Dornstein added. "I'd be really gratified to know that this project could potentially lead to the first new charges in the case in some 25 years."
© Copyright IBTimes 2023. All rights reserved.