Los Angeles Lakers Vs. New Orleans Hornets: Where To Watch Live, Prediction, Preview For Metta World Peace's Return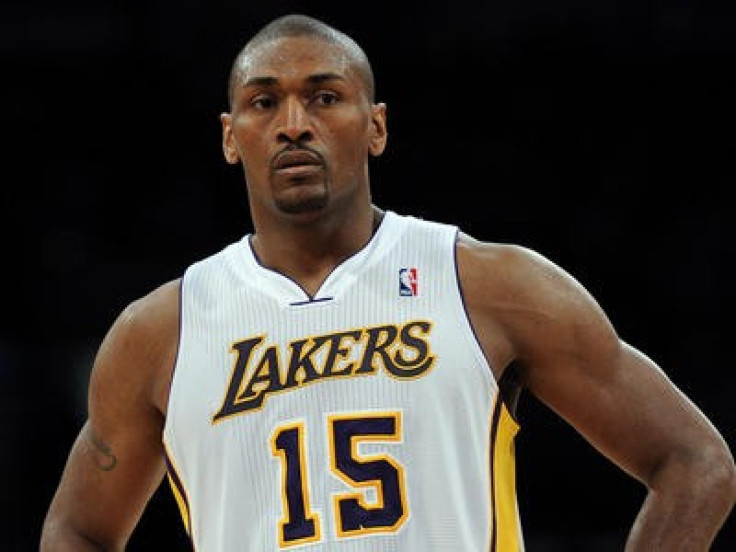 With less than two weeks left in the 2012-2013 NBA season, there's a good chance the Los Angeles Lakers will miss the playoffs for the first time in eight years.
The Lakers trail the Utah Jazz by half a game for the eighth and final postseason spot in the Western Conference. Utah recently overtook the Lakers, as they've won seven of their last eight games.
Despite having stars like Kobe Bryant, Dwight Howard, Pau Gasol and Steve Nash on the team, the odds makers in Las Vegas seem to think the Lakers season will end with their final regular season game on April 17. RJ Bell reports that the betting odds from the Las Vegas Hilton casino have L.A.'s chances of missing the playoffs at 54 percent.
On Tuesday night, Los Angeles will try to take a step towards proving the odds makers wrong with their game against the New Orleans Hornets. The two teams will square off at 10:30 p.m. ET at Staples Center. Viewers can watch the contest live on NBA TV.
A win could give the Lakers sole possession of the eighth seed. They are tied with the Jazz in the loss column and Utah is set to take the court against one of the best teams in the NBA. They will host the Oklahoma City Thunder, leaving just three games left on their schedule.
In a season that has been a struggle for Los Angeles, the Lakers have been very successful against the Hornets. They are 3-0 against New Orleans this season, winning each contest by an average of nine points.
L.A. should get a boost with the return of Metta World Peace. The small forward is set to come back from a torn meniscus, approximately a month before his expected return. L.A. went 4-2 in his absence, with Jodie Meeks taking his spot in the starting lineup.
The Lakers are expected to make it 4-0 against New Orleans. They are favored by 8.5 points at most sportsbooks in Las Vegas.
Prediction: Los Angeles 110, New Orleans 100
© Copyright IBTimes 2023. All rights reserved.