Malaysia 1MDB Scandal: Prime Minister Najib Razak's Wife Rosmah Mansor Spent $6 Million Using Credit Cards, Report Says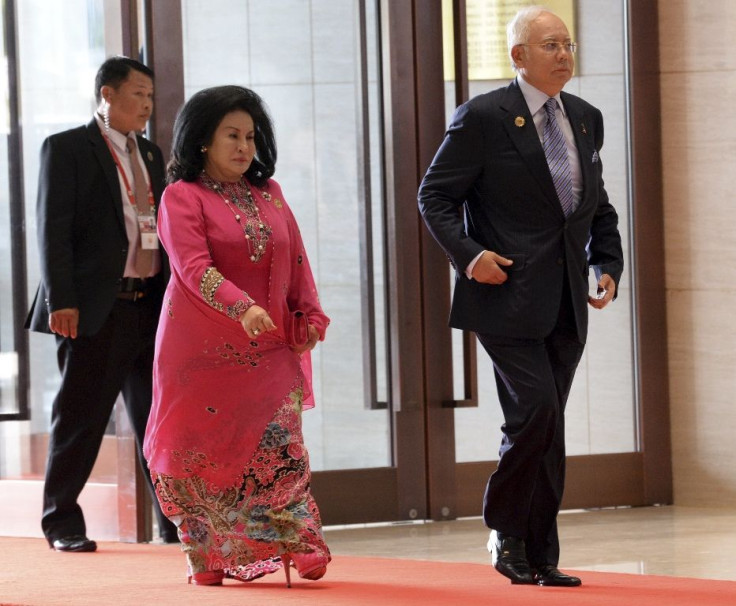 Malaysian Prime Minister Najib Razak's wife Rosmah Mansor spent $6 million using credit cards in recent years, amid corruption allegations surrounding state-fund 1Malaysia Development Berhad (1MDB) that was set up by her husband, the Wall Street Journal reported Monday, citing newly revealed documents.
Rosmah reportedly made purchases at European and American jewelry and fashion stores in 2014, where Najib paid using credit cards that drew on 1MDB funds. The new documents show these purchases were part of at least $6 million spent by Rosmah from 2008 to 2015 on clothes, shoes and jewelry from Harrods in London, Saks Fifth Avenue in New York and elsewhere, the Journal reported. The newspaper also noted she hadn't held a regular paying job in years and Najib has been a longtime bureaucrat with an annual salary of $100,000.
Furthermore, a source with direct knowledge of the U.S. investigation into 1MDB's alleged fraud told the Journal that Rosmah introduced Najib to Jho Low. According to a lawsuit filed by U.S. officials, Low is at the center of the alleged 1MDB scandal.
The Journal pointed out that in her 2013 autobiography, Rosmah said she has a habit of saving. "I have bought some jewelry and dresses with my own money. What is wrong with that?" she wrote.
Some time last year, Najib's office said his family's spending was proportionate with his inheritance from his father Abdul Razak Hussein who served as Malaysian prime minister from 1970 to 1976. In February 2015, Najib's four brothers reportedly said their father did not leave a big estate. Najib, without addressing the inheritance, then said that his father was as thrifty and a man of integrity.
In the lawsuit filed late last month, the U.S. Justice Department said over $3.5 billion was misappropriated from 1MDB in alleged fraud committed over a four-year period. It further added that it is seeking to seize more than $1 billion of assets linked to the fund.
Najib set up 1MDB in 2009 to spur economic growth in the Southeast Asian country. However, he was linked to the corruption scandal at the fund from which $681 million was traced to bank accounts allegedly owned by him. The prime minister has consistently denied corruption allegations, first made in a July 2015 report by the Journal, which said investigators tracked the money from an account at Falcon Private Bank in Singapore to accounts in Malaysia.
© Copyright IBTimes 2023. All rights reserved.