Manchester United Rising Star Promotes Advocacy And Reflects On Childhood Struggles
KEY POINTS
Marcus Rashford was awarded an MBE for his efforts to combat child poverty
Rashford is one of Manchester United's starting wingers
The 22-year-old's advocacy involves feeding vulnerable and underprivileged children across the U.K.
Manchester United star Marcus Rashford has been using his voice to speak up and fight for underprivileged children across the U.K. He said he wants to make a difference as he personally knows what it feels like to struggle as a child.
"Every single day it shocks me," Rashford said, Goal reported.
"It's not until people see the numbers and I've had the chance to visit some of the families I've managed to help and hear how it's affected them and changed their lives," the Manchester United forward continued.
Rashford recently supported a cross-party parliamentary bill to fund free breakfast at all schools with high numbers of disadvantaged students, The Guardian reported.
"It's just mind-blowing the amount of people who are suffering and the amount of people who don't know where to get the help," Rashford continued.
The 22-year-old was also named an MBE (Member of the British Empire) by Queen Elizabeth II for his efforts in the fight to end child poverty, CNN reported.
"There's a lot of things that would shock a lot of people if they knew the facts about the issue. For me not enough people do know the facts, as I was one of them," Rashford added.
"For me, personally, it's just sad to know it's still going on, and I obviously was in that position when I was younger, and some of the families are in much worse positions than what I was in, so I can only imagine what it feels like for the parents and the children who just want the best for one another, so it's difficult to really say one thing that somebody said to me that sticks out, because for me they're all as important as each other," he continued.
Rashford has been a prominent figure in social and political issues and supports the Black Lives Matters movement. For now, he continues to be a voice for children who are struggling and are the most vulnerable.
The young star has also been phenomenal on the pitch. He's appeared in 219 games for Manchester United and has scored 34 times to go along with 25 assists. While he continues his rise as a player, he said that his experiences as a professional have helped him mature as a person.
"I'm grateful for those opportunities and very happy I was put in those positions," Rashford said. "I do feel like I've matured a lot. I feel like I'm free to speak on things I feel strongly about. It's because of those experiences in the past that make me feel so comfortable doing that."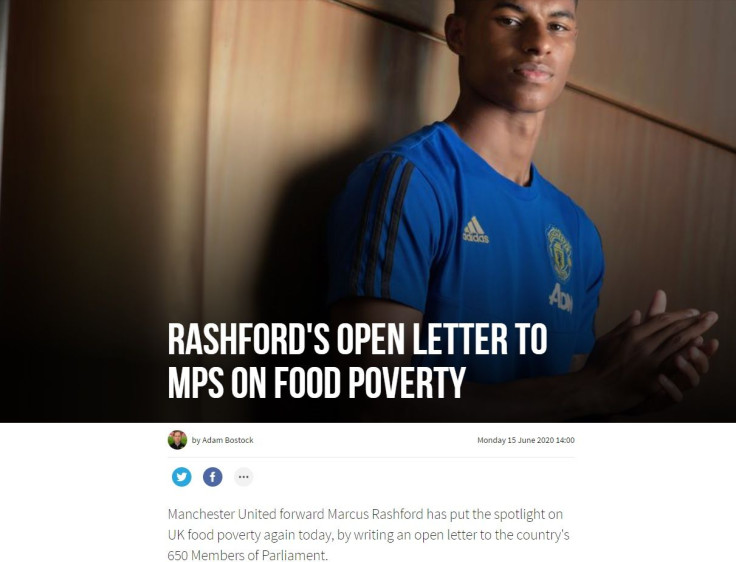 © Copyright IBTimes 2023. All rights reserved.