Marikana Report Live Stream: South African President Zuma To Release Commission's Findings On Lonmin Mine Strike Killings [VIDEO]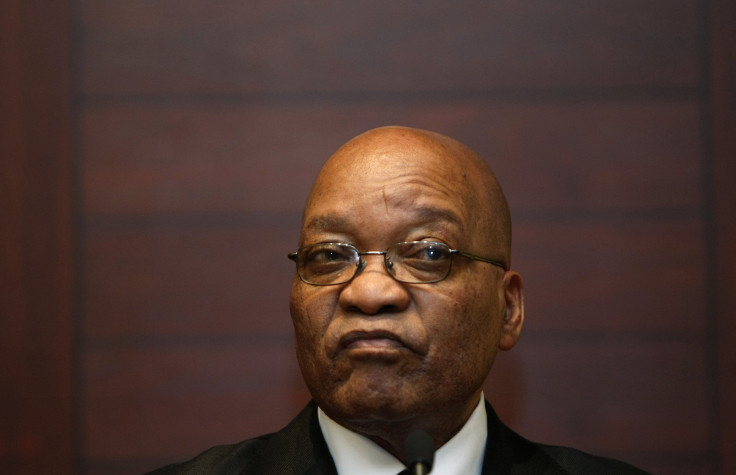 South African President Jacob Zuma will release a report Thursday on the Marikana massacre, which was the single deadliest use of force by authorities against civilians in South Africa since 1960. Zuma appointed a commission in 2012 to investigate the deaths of at least 44 people during a mining strike near Rustenburg in South Africa's North West province.
The commission, which was chaired by retired judge Ian Farlam, delivered the report to Zuma in March, but the South African leader delayed its release. A group of miners slammed Zuma for not immediately publishing the report and demanded for its release within two months. Last month, the miners challenged the president in court to force him to publish it. Zuma promised to release it before the end of the month, News24 in Johannesburg reported.
The Marikana report is expected to shed light on what took place August 14 through August 16, 2012, in which at least 41 miners on strike were killed by South African police. Two officers died in the process. At least 78 additional mineworkers were injured and more than 250 arrested during the strike at the Marikana platinum mine near Rustenburg. A few days earlier, some 3,000 workers walked off the job over a wage dispute with the mine's management, Lonmin. South African police had said they were forced to shoot the striking miners after they took arms and charged at authorities, BBC News reported at the time.
Zuma has defended the police, saying they were trying to prevent the strikers from killing people. "But those people in Marikana had killed people and the police were stopping them," the South African leader said last year while visiting the Tshwane University of Technology north of Pretoria, according to News24. "That's what you must understand."
Zuma will release the Marikana Commission of Inquiry's report on the killings and is scheduled to address the nation through the public broadcaster SABC at 7 p.m. local time, which can be viewed on a live stream below.
<iframe width="560" height="315" src="https://www.youtube.com/embed/7piR2ftrh50" frameborder="0" allowfullscreen></iframe>
© Copyright IBTimes 2023. All rights reserved.