Martin O'Malley 2016: Baltimore Uprising Protesters Plan 'Day Of Action' Against Presidential Campaign Launch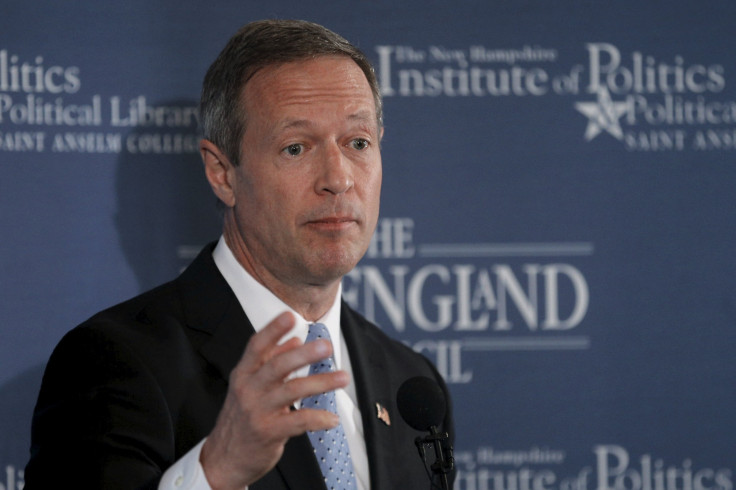 Former Maryland Gov. Martin O'Malley is expected to stand before Baltimoreans this weekend to officially declare his candidacy for president of the United States – a moment one contingency of city residents is seizing to remind potential supporters of his tenure as a two-term city mayor. Baltimore Bloc, the group planning a "Day Of Action" to protest O'Malley's announcement Saturday, holds a widely shared opinion that the former mayor's tough-on-crime policies lit the fuse that eventually exploded into citywide riots and protests over the police-involved death of Freddie Gray in April.
Reviews of O'Malley's overall legacy are mixed. They range from a belief that O'Malley, both as governor and mayor, was triumphant in spurring economic development and enacting education reforms, to an opinion that decades-old distrust and tension between the African-American community -- which makes up 63 percent of the Baltimore's population -- and local law enforcement agencies were worsened by his leadership.
O'Malley, a Democrat, is positioning himself as the liberal alternative to already-declared presidential hopefuls Hillary Clinton and Bernie Sanders. However, he lacks the same name recognition of Clinton, the former secretary of state, and Sanders, a U.S. senator from Vermont. Experts and residents said that leaves potential voters to examine the job he did on a smaller stage, and the reviews were not glowing.
"All you have to do is look at a local blog and see that he's not very well liked -- not by the locals for sure," said Tom Gregory, a retired college professor and commercial photographer who lives two blocks from where O'Malley has planned a campaign launch event Saturday. Gregory said he might show up to see if protesters disrupt the event as planned.
Baltimore Bloc has planned a march beginning at Federal Hill, the Baltimore neighborhood where O'Malley will make the announcement, and going to City Hall, one organizer told the Baltimore Sun Thursday. Representatives for the group as well as for O'Malley's campaign did not immediately respond to requests for comment.
While high taxation, mass incarceration policies and his positions on social issues have been cited as negatives by his critics, O'Malley's zero-tolerance approach to policing in Baltimore is consistently singled out as his lasting legacy in the city. There was a sharp reduction in the number of homicides during his tenure as mayor, which was served between 1999 and 2007, but the number of arrests in Baltimore spiked considerably in 2005, according to a Washington Post report. Longtime residents say the arrests were made for small infractions such as jaywalking, sitting on the sidewalk or not having an identification. In a quarter of the cases, the arrests did not result in criminal charges. Critics said despite O'Malley's charm, which has been noted as a plus by his allies, those actions amounted to government-sanctioned harassment of blacks by police.
"It won't be easy for many in Baltimore to forget that," said Bishop Douglas Miles, a native Baltimorean and pastor of the Koinonia Baptist Church in the northeastern part of the city. "While the murder rate initially declined, towards the end it began to escalate again, demonstrating that a police-only approach to the problems of Baltimore is not sufficient. Let Americans judge him on what he has or had not done, and not on personality only."
Bruce Poole, the chairman of the Maryland State Democratic Party, said O'Malley's manner and leadership helped see the state through a deep recession and improved the state's institutions of public education. "Is he a good man or not? Pretty much everyone would say absolutely," Poole said Friday in a phone interview. "He worked very hard to make sure we continued to be a state with a very high standard of living. He left the state looking like the future."
Many of O'Malley's critics did not voice their concerns while he was the mayor, Poole said. O'Malley has argued that the city's sharp decline in violent crime after he took office saved black lives. His supporters have also pointed out that he was elected three times with strong support from African American communities, despite their lingering questions over his policing strategy.
One recent attempt to demonstrate his kinship to the black community seemed to backfire. O'Malley, who cut short a trip to Europe to return to the city after violent protests over the death of Gray, attended a community meeting, checked out the senior center that burned in East Baltimore and surveyed the CVS store that was looted and burned near Pennsylvania Avenue as a way of "doing what he can to raise awareness about volunteer opportunities, while participating in the healing process with the people of Baltimore," a spokeswoman said.
Gray, 25, who suffered a fatal spine injury in Baltimore police custody, was accused by law enforcement of running from officers in a high-crime neighborhood of West Baltimore. In the hours after the African-American city resident's funeral, rioting and looting caused officials to impose a multi-day curfew and call in National Guard troops to prevent further outbreaks of violence.
O'Malley told reporters who followed him around during the visit that he wanted to help the city heal. "We're a people who've seen worse days, and we'll come through this day," he said.
However, many saw his visit as opportunistic -- a criticism that has haunted the career politician since he was first elected in the early 1990s as a city councilman. "I think he's long aspired to higher office and everything he did was about that, rather than about Baltimore or the state of Maryland," said Dominque Stevenson, a 50-year-old Baltimore resident who participated in peaceful protests after Gray's death. "I think it's great that people are going to show up and call him out on those issues."
Carl Pagan, a 76-year-old Baltimore resident who has lived in the city since he was eight, intimated similar sentiments. "It'll be a miracle if he wins," he said. "You could see that he was an opportunist, when he ran against two African-American candidates. He figured he couldn't lose because the vote was split. Martin O'Malley's name in Baltimore is just not a good name."
Public opinion could shift for O'Malley, but that will be difficult to achieve as long as the Baltimore unrest remains in the news, said Amy Becker, an assistant professor of communications at Loyola University Maryland. "Baltimore is going to keep coming up for him, but O'Malley will fare better outside of the state than he will in Maryland."
© Copyright IBTimes 2023. All rights reserved.