Martin Salia, Ebola Patient In Nebraska, In 'Extremely Critical' Condition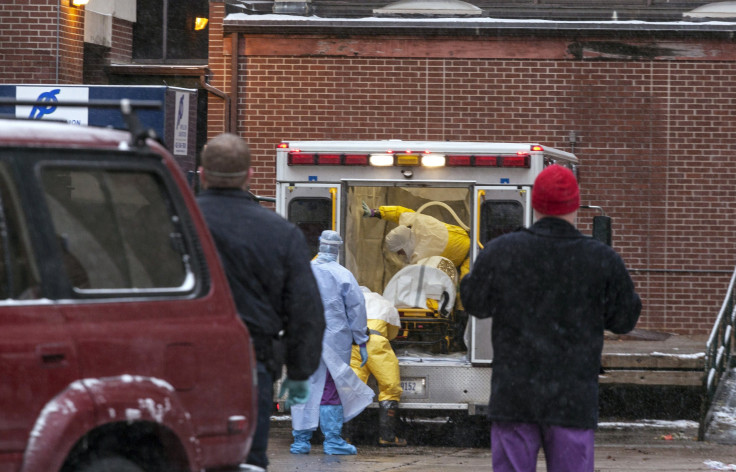 Physicians treating Dr. Martin Salia, a Sierra Leone surgeon with Ebola who arrived at the Nebraska Medical Center in Omaha Saturday, said he is in "extremely critical" condition, Reuters reported. The hospital previously treated Dr. Rick Sacra and NBC freelance cameraman Ashoka Mukpo for the same disease.
Salia, who split his time between New Carrolton, Md., and Freetown, Sierra Leone, is a permanent U.S. resident who contracted Ebola while working at a Methodist hospital in Freetown even though the surgeon was not specifically treating Ebola patients. He developed a fever last week, prompting his wife to request Salia's transfer to the U.S. for treatment, WJZ reported.
While Salia was healthy enough to fly to Omaha, he could not walk off the airplane on his own, Reuters reported. "We will do everything humanly possible to help him fight this disease," Dr. Phil Smith, medical director of the biocontainment unit at the Nebraska Medical Center, said in a statement cited by the news agency. Smith described the treatment as an "hour-by-hour situation."
The Nebraska Medical Center is equipped with a 10-bed biocontainment unit that was used to treat two other patients, Dr. Rick Sacra and cameraman Ashoka Mukpo. "Our unit is a secure, air-locked facility and operates on an air-handling system that's separate from the rest of the organization. Our highly trained team is perhaps our greatest defense. They have received many hours of highly specialized training and detailed instruction on how to care for these types of seriously ill patients," the hospital says on its website.
The Ebola outbreak has killed at least 5,177 people in West Africa, according to the World Health Organization's latest figures. It was among the topics discussed during the Group of 20 summit in Brisbane, Australia, this weekend. The G-20 leaders expressed their commitment to stopping the spread of the virus and urged new health initiatives.
"G-20 members recommit to full implementation of the WHO's International Health Regulations [IHR]. To this end, and in the context of our broader efforts to strengthen health systems globally, we commit to support others to implement the IHR and to build capacity to prevent, detect, report early and rapidly respond to infectious diseases like Ebola. We also commit to fight antimicrobial resistance. Interested G-20 members are supporting this goal through initiatives to accelerate action across the Economic Community of West African States and other vulnerable regions and will report progress and announce a time frame by May 2015 at the World Health Assembly," the G-20 leaders said in a statement delivered by the summit's host country of Australia.
© Copyright IBTimes 2023. All rights reserved.