Mayweather vs. Pacquiao 2015: 3 Reasons Why Manny Will Upset Floyd On May 2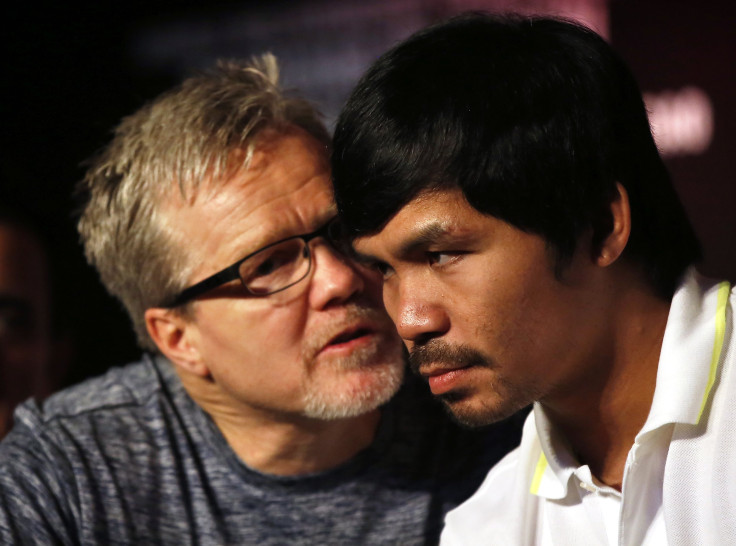 An undisputed and undefeated five-division champion, Floyd Mayweather will enter the MGM Grand Arena in Las Vegas as a massive favorite over rival Manny Pacquiao on May 2. The 38-year-old Mayweather has earned the nickname "Money" both for his business acumen and for being one of the surest bets in boxing history as he's taken down 47 straight opponents and never tasted defeat once.
Based off the most recent odds from Bovada.lv, the bout is largely expected to sway in Mayweather's favor. The over-under on the total number of rounds currently stands at 11.5, meaning book makers firmly believe the defensive-minded Mayweather will control the mega-fight's tempo and put the decision in the hands of the judges.
Winning seven of his last eight bouts via decision, the chances Mayweather picks up another decision off Pacquiao has been set at -140.
Essentially, the safest bet once again lies in Team Money's corner.
But with the fight now eight days away, set to bust every gate, pay-per-view, and purse record in its path, there are reasons to believe the underdog Pacquiao will prevail.
Southpaws Are Always A Problem
Mayweather's on the cusp of capping one of the greatest careers in boxing history. Only a handful of fighters have finished their careers undefeated, and Mayweather figures to join them if he can hold off Pacquiao.
The problem is Pacquiao's southpaw stance, and Mayweather having faced only five lefties in his career. Mayweather's beaten every southpaw he's faced, the last being Robert Guerrero in 2013, but none possessed the power and relentless nature of Pacquiao.
This certainly gives credence to the theory that Mayweather has avoided Pacquiao all these years because of the latter's style. Mayweather's defense-first strategy has worked wonders against every opponent, but when facing a lefty most boxers are thrown off by their backwards style. The direction a jab comes from a righty has now flipped to the other side, and the same for every other punch. Not to mention the different patterns of footwork.
Deception or the element of surprise, and certainly more punching power, should be in Pacquiao's favor throughout the fight.
Pacquiao's Desire
To be clear, neither combatant desperately needs this fight for the money. The fact that each will clear nine figures from the combined purse, gate and PPV buys is a major perk on top of the decades-worth of bragging rights up for grabs.
But there's very little question who stands to benefit the most from a victory. Pacquiao would once again be on top of the boxing world having dropped his only real equal throughout his career. Talk of the disastrous knockout loss to Juan Manuel Marquez two years ago will be viewed as an anomaly rather than awkward punctuation at the end of Pacquiao's career.
There's a chance Pacquiao might enter the fight more prepared, as well. In recent interviews, Pacquiao's long-time trainer Freddie Roach said the Filipino star has actually studied film of Mayweather's previous bouts, something he's never done for any other opponent.
A Step Slower vs. Maidana
Both fighters have hinted their matchup could be one of if not the last of their esteemed careers, and for Mayweather he might be getting out at the right time.
He's undoubtedly one of the greatest in history, but in Mayweather's last two bouts against Argentina's Marcos Maidana he looked a step slower and allowed Maidana to score points other fighters wouldn't have earned in previous years. In their first meeting in May 2014, Maidana began the first four rounds with countless shots and Mayweather sustained the first cut above one of his eyes in his career. As remarkable as that sounds, and even though the cut likely came from when they nudged heads in a clench, it was almost unthinkable Mayweather would have allowed another fighter to make him bleed before.
At times in that first bout, Maidana's strategy was to cut off the rest of the ring and keep Mayweather vulnerable on the ropes. It worked for the first half of the fight but Maidana ran out of gas by the later rounds.
Maidana's strategy against Mayweather is the one Pacquiao has used for every opponent, and he hasn't shown any tendency to tire in the later rounds. If Pacquiao can keep up that same kind of pressure, and land his power shots in high volume, Mayweather might not be undefeated much longer.
© Copyright IBTimes 2023. All rights reserved.