McGregor vs. Poirier 3 Fight Purse: Dustin Says 'Money Is More Important'
KEY POINTS
Conor McGregor and Dustin Poirier could each earn millions from their fight on Saturday
McGregor built a $200 million fortune from his career earnings and the sale of his whiskey brand
Poirier is worth an estimated $4 million
Conor McGregor and Dustin Poirier will face off for the third time in seven years this Saturday at the T-Mobile Arena in Las Vegas. But how much will the two mixed martial artists earn from their upcoming fight?
Poirier's victory against "The Notorious" at UFC 257 in January gave him the opportunity to fight for the then-vacant 155-pound title, but he chose to sign on for a third clash with McGregor instead. According to "The Diamond," he made the decision due to the money he was being offered.
"The money is more important. I have mouths to feed. Good thing closing that door with Conor does both those things," Poirier said in an interview with ESPN. He explained that if he had fought for the belt, he "wouldn't have gotten pay-per-view (points). I would've gotten a base salary of probably not even a third of my base salary for this fight."
"If I'm gonna make five, six, seven, ten times the amount of money to fight Conor again… like I said, I'm a father and a husband and I have priorities," he continued.
While the UFC doesn't disclose purse amounts ahead of a clash, the third fight in the trilogy could give McGregor guaranteed purse money of $3 million, plus a 60% share of pay-per-view revenue, which would increase the overall purse to $10 million, SportingFree reported.
For UFC 264, Poirier could be paid a guaranteed $1 million and 40% of pay-per-view sales, which could add up to $3 million, according to the outlet. This would be a career-high for him.
For their UFC 257 fight earlier this year, McGregor made a disclosed $5 million despite losing, while Poirier received $1 million, CNet reported. McGregor's earnings don't include his cut of pay-per-view sales.
The rivalry between McGregor and Poirier began in 2014 when the former knocked the latter out in a fight that lasted just 1 minute and 46 seconds. But while Poirier managed to get revenge seven years later, his fortune still pales in comparison to that of McGregor.
McGregor, one of the biggest UFC stars of all time, is worth an estimated $200 million as of 2021, according to Celebrity Net Worth.
His wealth was given a big boost after his August 2017 match against Floyd Mayweather, where he made an estimated $100 million, the outlet said. In 2018, McGregor received $50 million when he fought, and lost, against Khabib Nurmagomedov at UFC 229. His net worth also included his estimated $200 million pre-tax earnings from the sale of his whiskey brand Proper No. Twelve in April.
Meanwhile, the prize money that Poirier would earn from fighting McGregor Saturday would be a big boost to his wealth considering he is worth $4 million, according to Celebrity Net Worth.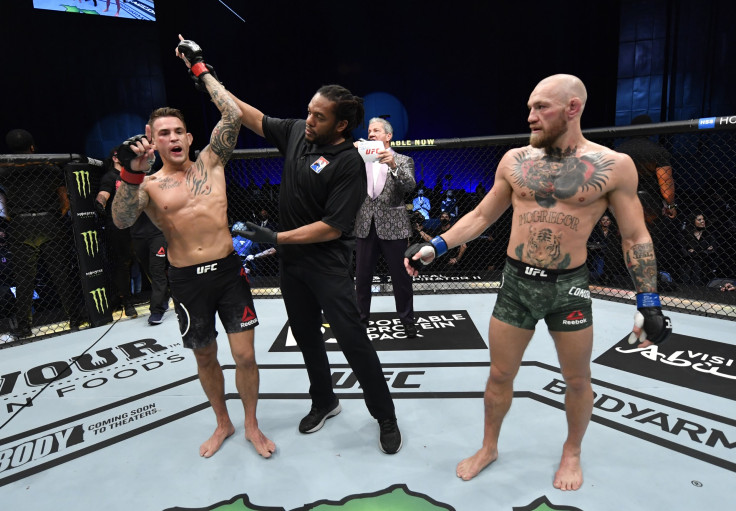 © Copyright IBTimes 2023. All rights reserved.