Mike Stoops Fired: Arizona's Potential Replacements Include Leach, Sumlin, Petersen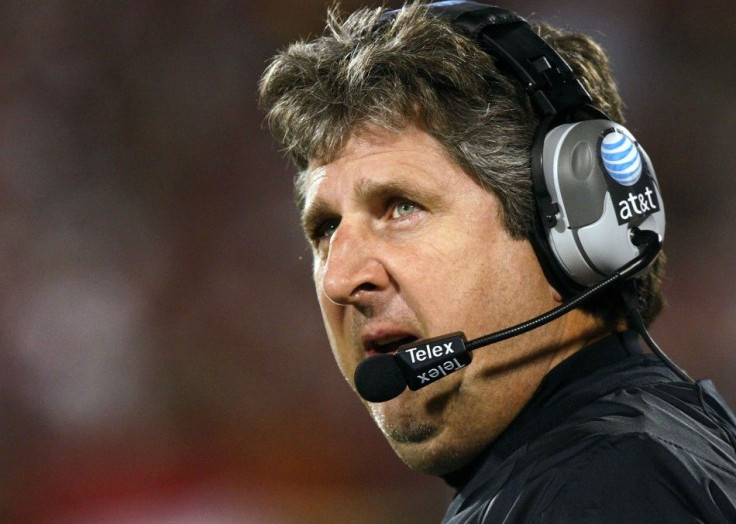 Arizona fired Mike Stoops late Monday after his eight-year tenure turned from one of optimism to gloom.
Stoops was fired amid two conflicting points on his resume that made the decision somewhat controversial. On one hand, he had taken Arizona to three straight bowl games. On the other, the Wildcats lost the final five games of last season and were off to a 1-5 (0-4 Pac-12) start this year.
This season had gotten to the point that I was very concerned about the long-term impact of our decision and where the program was going, Arizona athletic director Greg Byrne said in a press conference Monday.
In the short term, defensive coordinator Tim Kish will take over the Wildcats for the rest of the season. But what about the long-term, to which Byrne alluded? Let's take a look at who could replace Stoops:
1. Tim Kish
As the interim coach, he's an obvious candidate, at least, for the more-permanent position. Here's why he won't get the job: Arizona could have just as easily fired Kish and hoped their biggest problem would be solved that way.
Arizona is 28th in the FBS in offense. Quarterback Nick Foles leads the country with 33.5 completions per game and is third with 375.8 passing yards per game.
Arizona's glaring weakness is its 115th-ranked defense, which Kish leads on a weekly basis. Unless Stoops was really pulling the strings on defense, Kish works some magic and leads a dramatic turnaround, don't count on him for the job.
2. Mike Leach
Leach has been out of the game for two years now, and he has expressed interest as recently as Monday to return to the sidelines.
Here's why he would: Arizona runs an Air Raid offense that Leach popularized at Texas Tech. he could work wonders with this already third-ranked passing offense. Foles will be gone, but that won't really matter with the track record Leach has for producing great quarterbacks. His legend has actually gotten bigger since his ouster from Texas Tech, and his personality would fit well in Tucson.
Here's why he wouldn't: Does he want to wait for even bigger coaching jobs to open? Georgia? UCLA? Ohio State?
But Georgia and UCLA are back on track after lackluster starts to their respective seasons, and Ohio State seems like a pretty unlikely fit. Leach's best big-program option immediately might be Arizona.
3. Kevin Sumlin
Sumlin's name is being thrown around as the most logical and practical candidate. He's an up-and-comer and has Houston at 6-0 and the words Houston and BCS in the same sentence. The Cougars are ranked No. 25.
Then again, maybe it's not logical. According to The Houston Chronicle, Sumlin's buyout if he leaves before Jan. 2 is $600,000. Combine that with Stoops' $1.4 million buyout, and this is becoming a pretty expensive coaching hire for the Wildcats.
But Sumlin runs the same offense and is a logical fit. Both sides would transition well.
4. Chuck Cecil
Cecil was a star as a player at Arizona and a Pro-Bowl safety in the NFL. Then he ran the Titans' defense for a decade before he was fired in January.
He told the Tucson Citizen on Oct. 1 that he would not rule out college at this point, but I think I'd like to try the NFL first. But if his alma mater comes calling, he might have to listen.
Cecil has a good defensive pedigree that could provide a jolt to Arizona's sagging defense. He also has the name-recognition factor that would appease fans and boosters.
5. Sonny Dykes
Dykes spent three years as Arizona's offensive coordinator before leaving to become the head coach at Louisiana Tech. There, he has compiled a 7-11 record thus far through parts of two seasons.
He's also not very far removed from the Wildcats offense and would make the transition smoother for the program, especially with his familiarity. But where these offensive candidates might make their most important moves is in hiring great defensive minds.
6. Chris Petersen
Not happening.
© Copyright IBTimes 2023. All rights reserved.