Mikey Musumeci Seeks To Prove A Point As He Issues Challenge To Sambo Champions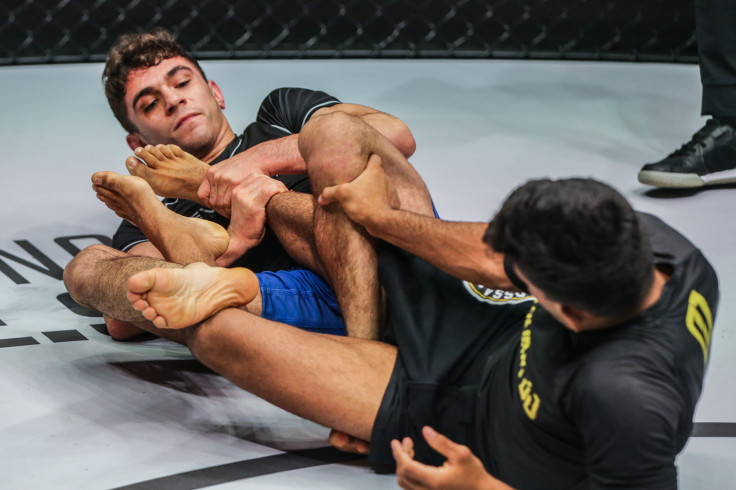 KEY POINTS
Mikey Musumeci still remembers what Khabib Nurmagomedov said about Brazilian jiu-jitsu
He wants to face a sambo practitioner in submission grappling to prove a point
Musumeci won the inaugural ONE flyweight submission grappling title over the weekend
Before Khabib Nurmagomedov became a world-renowned mixed martial artist who went on to have a dominant reign as the UFC lightweight champion and eventually a place in the UFC Hall of Fame, he was once a hungry prospect determined to put the entire sport on notice.
"The Eagle" made it look easy in his first two outings under the UFC banner in 2012. However, those two bouts did not garner the raucous reception he was expecting.
Nurmagomedov, who started out as a sambo practitioner before he transitioned to MMA, decided to add a bit of flare for his third promotional assignment in January 2013 and finally got his first taste of the mainstream limelight before he could even make the walk to the Octagon.
During the official weigh-in and ceremonial face-off with hometown favorite and opponent Thiago Tavares in Sao Paolo, Brazil, Nurmagomedov wore a black t-shirt with the statement "'If sambo was easy, it would be called jiu-jitsu'' emblazoned across his chest.
The taunting message drew the ire of many Brazilian fans, who were offended at the belittling of their national martial art, and had throngs of users buzzing on social media.
Despite fighting in hostile territory, Nurmagomedov still turned in a near-flawless performance as he thwarted Tavares via technical knockout in the first round.
A few years later, Nurmagomedov logged his name into the annals of UFC history as the promotion's 10th lightweight titleholder and then called it a career in 2020 with an immaculate 29-0 record.
While Nurmagomedov remains to be celebrated by fans and pundits alike for his contributions and accomplishments, Mikey Musumeci remembers the Russian legend for the black shirt he wore over nine years ago.
For the newly-minted ONE flyweight submission grappling champion, there is only one way to prove if the statement printed on Nurmagomedov's shirt holds water—and that's by duking it out on the mat.
"There's a funny quote from Khabib. He said: "If sambo was easy, it would be called jiu-jitsu.'" he recalled in a recent interview.
"So, let's have the sambo guys compete against the jiu-jitsu people. Let me fight the top world champion of my weight class in sambo and let's see which is superior in the submission grappling format."
Musumeci then explained in greater detail in one of his comments on the original video.
"There are two different types of sambo to my knowledge. One that is combat and amazing for MMA and the other is without strikes. I would assume we can consider the sambo without strikes a type of submission grappling just like jiu-jitsu. That is what I am referring to," he stated.
"I say in this interview it would be so cool to experience the best sambo athlete because I have no clue what to expect, so it would be super exciting. I would never disrespect sambo. Obviously, combat sambo might be the best to translate to MMA more than jiu-jitsu. I am referring to submission-grappling and the non-combat sambo," Musumeci continued.
Musumeci is coming off a hard-earned decision win over longtime rival Cleber Sousa at ONE on Prime Video 2 last weekend to capture the gold-plated strap.
The 26-year-old native of Marlboro, New Jersey believes that he and Sousa made history in their 10-minute joust and added that it is a step in the right direction for the submission grappling industry.
"I am the first champion of ONE ever in submission grappling. There are going to be so many amazing champions, but this is the beginning of it. Me and Cleber put on an amazing, exciting match for everyone. And we made history together. So it was an honor," he stressed.
Musumeci also acknowledged that the intricately-crafted belt wrapped around his waist entails great responsibility.
"It means everything to my legacy, you know, because I know ONE Championship is the biggest title in jiu-jitsu. And for future generations, this will be everything for everyone. So to be the first person to get it, it's so special. I'm just honored that I'm the first person," he mentioned.
Musumeci may be relishing his sweet victory at ONE on Prime Video 2, but he already has an opponent in mind for his next trip to the Circle.
The submission wizard expressed his desire to share the mat with MMA superstar Demetrious Johnson.
"I know me and him could bring the MMA and jiu-jitsu fans together and it would just be a historic, incredible event. It would be an honor to step on the mat with him," he declared.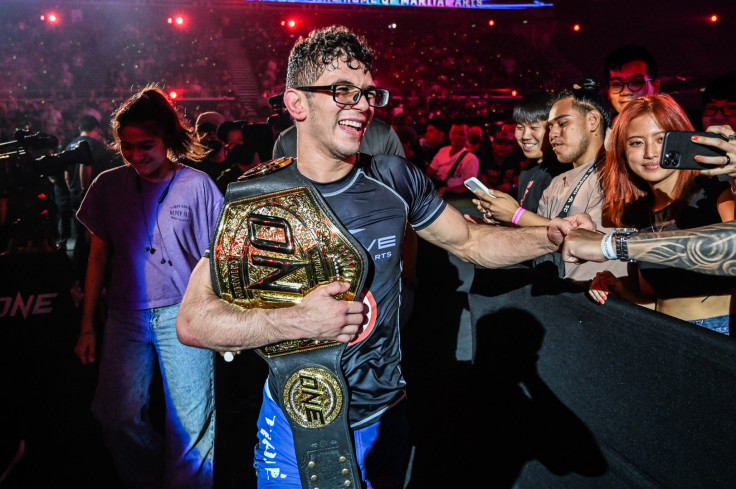 © Copyright IBTimes 2023. All rights reserved.