Minnesota Vikings Prediction: Kirk Cousins Will Struggle Against Chicago Bears, Miss NFL Playoffs
The Minnesota Vikings control their own destiny when it comes to the 2018 NFL playoff picture. They've got a half-game lead over the Philadelphia Eagles for the only remaining NFC postseason spot. A win over the Chicago Bears in Week 17 would give them a matchup on Wild-Card Weekend.
In some ways, the Vikings are set up perfectly for another trip to the playoffs. They'll be playing at home against a team that has already won the division and will be hard-pressed to improve their position in the standings. Halfway through Sunday's game, it could be clear that Chicago is locked into the NFC's No.3 seed.
A loss doesn't necessarily mean Minnesota will be eliminated. Philadelphia has to win in Week 17 in order to keep their playoff hopes it alive and pass the Vikings.
The Vikings shouldn't count on an Eagles' loss. Philadelphia will visit the Washington Redskins, who were eliminated from contention last week and have been decimated by injuries. With two straight wins since Nick Foles has taken over as the starting quarterback, the Eagles are 6.5-point road favorites, per OddsShark, and expected to beat a Washington team that's lost five of their last six games.
Can Minnesota take care of business at home?
Kirk Cousins was essentially in the same spot just two years ago. The Redskins needed to beat the New York Giants at home to make the playoffs. Facing a Giants' team that had nothing on the line, Cousins posted a 74.3 passing rating with two interceptions in a 19-10 loss.
New York played all of their starters, and one of the league's best defenses kept Washington from making the postseason. No NFC defense has given up fewer points than Chicago in 2018, and the Bears have said they won't take their foot off the gas in the season finale.
"If we were in a position where you can't move at all seed-wise and you were just locked in, then I think that's something [resting starters] that you have to discuss," Bears' head coach Matt Nagy said, via ESPN.com. "But we're not in that position. So we have to play to win, and I kind of like that. I don't mind that at all, and I think that our guys kind of like it. It just kind of keeps you going if you were fortunate enough to make it to the playoffs. It keeps you going in that rhythm."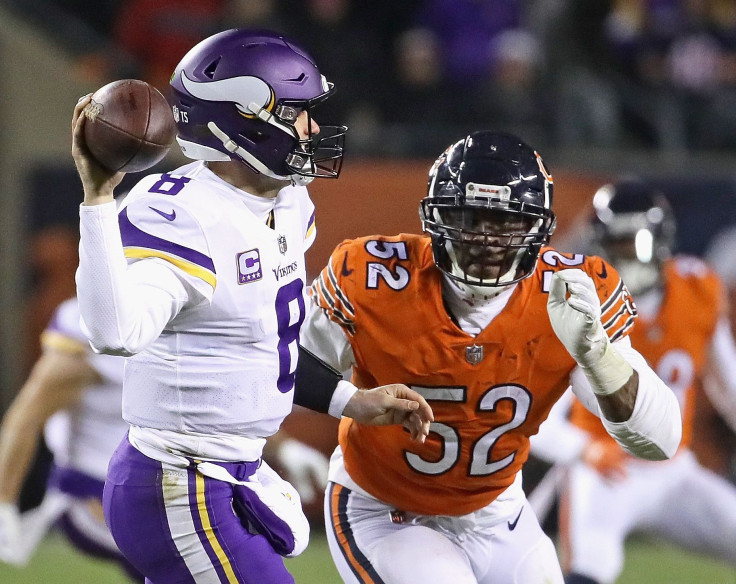 The Bears can get the No.2 seed and a first-round bye if they beat the Vikings and the Los Angeles Rams lose at home to the San Francisco 49ers. L.A. is a heavy favorite, but they have lost two of their last three games and Todd Gurley could sit for a second straight week. Chicago and L.A. are scheduled to play at the same time.
Cousins had trouble with the Bears when the Vikings visited Soldier Field in Week 11, averaging 5.7 yards per attempt and throwing two interceptions. It marked yet another loss for the quarterback in primetime.
Sunday's contest won't be at night, but it will be the biggest game of the season for Cousins and the Vikings. The signal caller has struggled time after time in important moments. The Week 17 matchup might be another game that gets added to the list.
Cousins led the Redskins to just 18 points in a loss at home when the quarterback made his only playoff appearance three seasons ago. The Vikings are 1-4 in nationally televised games this season, only beating the Green Bay Packers, who will finish the season below .500. With a loss to the Seattle Seahawks on "Monday Night Football" a few weeks ago, Cousins fell to 4-23 in his career in games against teams that have a winning record.
Minnesota's wins against good teams this season are nonexistent. The Vikings have gone 0-5 against teams that have clinched postseason berths. None of those losses were particularly close, and three of them came by double-digits.
Khalil Mack has 12.5 sacks in 13 games for the Bears, leading the NFC's best pass rush. The Vikings have one of the worst offensive lines in football, and few quarterbacks face more pressure than Cousins on a weekly basis. That pressure could force him into some costly mistakes Sunday.
The Bears are 8-1 in their last nine games, losing only when backup quarterback Chase Daniel was forced to start in place of Mitchell Trubisky. With the chance to earn a first-round bye and knock a divisional rival out of the playoff hunt all at once, Chicago isn't likely to let up in this one.
That could be bad news for Minnesota, who might be on their way to missing the postseason.
© Copyright IBTimes 2023. All rights reserved.