MLB All-Star Team: "I'll be biased" choosing players says Bruce Bochy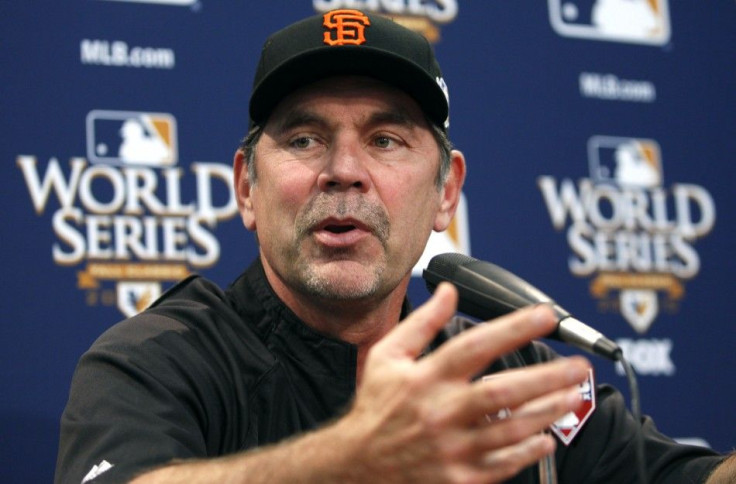 Bruce Bochy, the manager of the National League team says he will be biased in choosing this year's players for the MLB All-Star Game.
Bochy will be the manager for the team by virtue of the Giants winning the National League and then going on to win the World Series.
As manager, Bochy will have at least 9 choices he can make for the team, with the only restriction being that each team gets at least one representative. In addition, Bochy will be able to choose any injury replacements.
In an interview with KNBR on Saturday, Bochy talked about selecting players for the team saying, I'll be biased. I'll come out and say that,
He continued, If I have a player that I think should go and a player having a little better year, I'll take my guy because of what happened last year.
Bochy didn't clarify what he meant by what happened last year. However, two years ago, Philadelphia Phillies manager Charlie Manuel took his player Jayson Werth over the Giants' Pablo Sandoval who was having a great year and just fell short of the fan voting.
This year, the Giants don't have an obvious position player that can make the All-Star team with catcher Buster Posey and second baseman Freddy Sanchez both injured.
Sandoval, who was also injured for one month, has the best stats on the team, hitting 0.290 with 5 homeruns in 36 games for a team that ranks 30th in offense.
Since the Giants haven't gotten a position player on the All-Star team since Barry Bonds, Bochy may very well take Sandoval.
The Giants are still in first place in the NL West, primarily due to their strong pitching. Pitchers are voted on by the players and several of the Giants pitchers should make the team that way among them Tim Lincecum, Matt Cain, and closer Brian Wilson.
Bochy told Mercury News two weeks ago that he will consider adding setup relievers to the team.
I know what guys like (Sergio) Romo and Javier Lopez have done for me. They get left out, but it doesn't happen without the setup guys, Bochy said.
The All-Star game will be played on July 12, 2011 at Chase Field in Phoenix, Arizona. The winner of the All-Star game will give its league home field advantage in the World Series.
© Copyright IBTimes 2023. All rights reserved.