MLB Rumors: Angels Fail To Land Pederson Despite Betts Move To Dodgers
KEY POINTS
Angels could still get Pederson in separate deal
Dodgers finally get Betts, Price
Revised trade did not need Angels
The Boston Red Sox were able to pull off a trade that sent Mookie Betts and David Price to the Los Angeles Dodgers. In a deal that had its ups and downs the past days, the team that ended up on the losing end was the Los Angeles Angels.
Originally, the Angels were to get Joc Pederson, Ross Stripling and Andy Pages in exchange for Luis Rengifo. However, the deal depended heavily on how the Dodgers-Mookie Betts trade turned out. In the end, the Angels were not needed to get the deal done, Jon Heyman of the MLB Network reported.
In the revised trade scenario, the Dodgers finally got Betts and Price together with the Minnesota Twins 2020 compensatory Round B draft pick and cash from Boston to pay for half of Price's remaining salary. They also get Brusdar Graterol from the Twins. He was originally set to join the Red Sox, but medical reviews reportedly spooked Boston which contributed to the delay.
The Red Sox ended up with Alex Verdugo, Jeter Downs, and Connor Wong. Minnesota got Kenta Maeda from the Dodgers and $10 million cash plus an unnamed low-level minor-leaguer, the Associated Press reported.
Compared to the original teams that were involved in the MLB trade, the Angels ended up having no participation and eventually failing to land Joc Pederson. There are new reports that a new trade could be on the table involving the Dodgers and the Angels for Pederson. However, that may depend on whether Angels owner Arte Moreno has cooled off. He was pretty upset with the delay of the original deal so it will be interesting if he entertains a new one for the 27-year-old outfielder.
It should also be noted that the Angels were the ones who pulled out of the original MLB trade talks. The fact remains that relationships have been strained between Pederson and the Dodgers, a reason why new talks are on the horizon. He owns an affordable $7.75 million expiring contract which should entice other MLB teams to a trade. That is if the Angels are still miffed at the delays and opt to pass on the outfielder.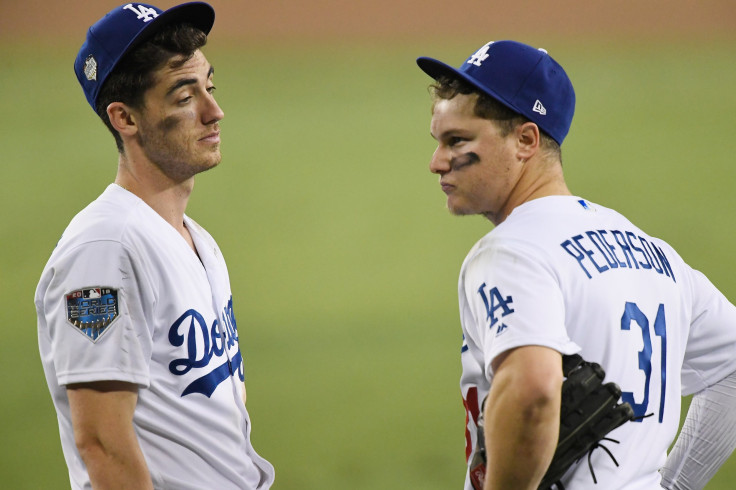 © Copyright IBTimes 2023. All rights reserved.