Myanmar Rohingya Ethnic Cleansing: US Suspends Official Travel To Rakhine State, Fearing Protests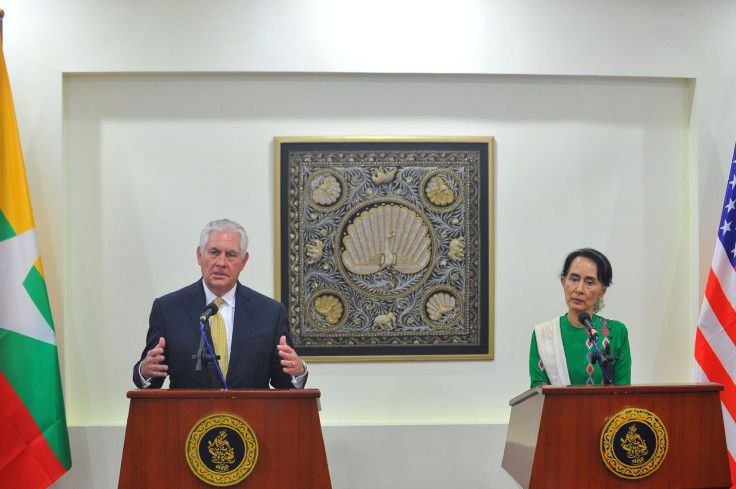 The U.S. temporarily suspended travel for American officials to parts of Myanmar's Rakhine state due to concerns over potential protests after Secretary of State Rex Tillerson declared that Myanmar had conducted "ethnic cleansing" in the state.
Reuters cited the U.S. embassy as saying official travel was not allowed after Tillerson's comments Wednesday.
In his statement, Tillerson blamed the Myanmar military, security forces as well as local vigilantes for horrendous atrocities against the minority community of Rohingya Muslims.
The military's "clearance operations" have sent more than 620,000 Rohingya refugees flooding over the border to Bangladesh.
"I reiterate the United States' condemnation of August 25 attacks on security forces by the Arakan Rohingya Salvation Army (ARSA). Yet no provocation can justify the horrendous atrocities that have ensued," he wrote in his statement.
Members of the extremist outfit ARSA attacked outposts of Myanmar security forces on Aug. 25, and the latter combined with Buddhist mobs responded with a violent crackdown on Rohingya communities, the Washington Post reported.
"These abuses by some among the Burmese military, security forces, and local vigilantes have caused tremendous suffering and forced hundreds of thousands of men, women, and children to flee their homes in Burma to seek refuge in Bangladesh. After a careful and thorough analysis of available facts, it is clear that the situation in northern Rakhine state constitutes ethnic cleansing against the Rohingya," Tillerson added.
He also indicated the possibility of imposing sanctions directed against specific Myanmar officials responsible for the brutal crackdown.
"Those responsible for these atrocities must be held accountable. The United States continues to support a credible, independent investigation to further determine all facts on the ground to aid in these processes of accountability. We have supported constructive action on the Rakhine crisis at the UN Security Council and in the UN General Assembly's Third Committee. The United States will also pursue accountability through U.S. law, including possible targeted sanctions."
Tillerson made a brief visit last week to Myanmar, where he talked with State Counselor Aung San Suu Kyi and the head of the armed forces, Senior General Min Aung Hlaing.
According to Time Magazine, the U.S. previously held off determining if the extent of violence in Myanmar could be considered ethnic cleansing, even after the United Nations came to that conclusion in September. It was reported at the time that Tillerson was deeply concerned about the situation but needed more information.
Time also cited the State Department officials saying that declaring the atrocities as ethnic cleansing was intended at increasing pressure on Myanmar military to resolve the conflict, and also as a call upon the Trump administration to impose new sanctions against the country.
Human Rights monitors have accused Myanmar's military of atrocities, including killings, mass rape and arson, against Rohingya Muslims after the Aug. 25 attacks.
Some even said there was evidence of genocide in the retaliation. Ethnic cleansing, however, is not recognized as an independent crime under international law, according to the United Nations Office on Genocide Prevention.
However, a UN Commission of Experts mandated to look into violations of international humanitarian law committed in the territory of the former Yugoslavia defined ethnic cleansing as "… a purposeful policy designed by one ethnic or religious group to remove by violent and terror-inspiring means the civilian population of another ethnic or religious group from certain geographic areas."
They added that these practices can "… constitute crimes against humanity and can be assimilated to specific war crimes. Furthermore, such acts could also fall within the meaning of the Genocide Convention."
© Copyright IBTimes 2023. All rights reserved.