NASCAR Fight Video: Tony Stewart Punches Joey Logano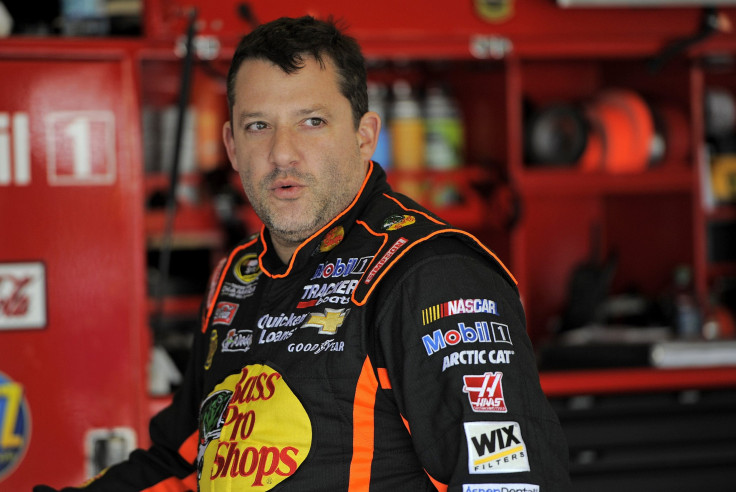 Things got heated on the race track after Sunday's Auto Club 400.
Kyle Busch picked up his 25th victory in the NASCAR Sprint Cup Series, but his win was not the biggest story from Fontana. Tony Stewart and Joey Logano made headlines after getting into an altercation, following the final lap.
When the race ended, Stewart ran to Logano's car. He shoved Logano, and the two had to be separated by crew members. Several punches were thrown during the scuffle, though no one was hurt in the fight.
Stewart called Logano a "little girl," who threw his water bottle at the man who pushed him after the race.
"It's time he learns a lesson," Stewart said. "He's run his mouth long enough and done this double standard, but he's nothing but a little rich kid who has never had to work in his life."
For 18 laps, Stewart led the field and was in good position to pick up his third win in five races at Auto Club Speedway. Logano blocked Stewart down to the inside, fearing he would lose any chance of coming in first. After the final restart, Stewart was unable to regain any momentum he had, finishing in 22nd place.
"I'm tired of these guys doing that stuff," Stewart continued. "Especially out of a kid that's been griping about everybody else and then he does that the next week. He sent Denny to the hospital and screwed our day up. He's talked the talk, but he hasn't walked the walk yet. He's always got his crew guys walking the walk for him."
Logano finished in sixth place and showed no remorse for costing his opponent the victory.
"I had to throw the block there," Logano said. "That was a race for the lead. I felt if the 14 got underneath me that was going to be the end of my opportunity to win the race, so I was just trying to protect the spot I had."
Below is a video of the fight.
© Copyright IBTimes 2023. All rights reserved.