Navy Yard Shooter: FBI Releases Disturbing Footage Of Aaron Alexis On The Day Of Mass Killing [VIDEO, PHOTOS]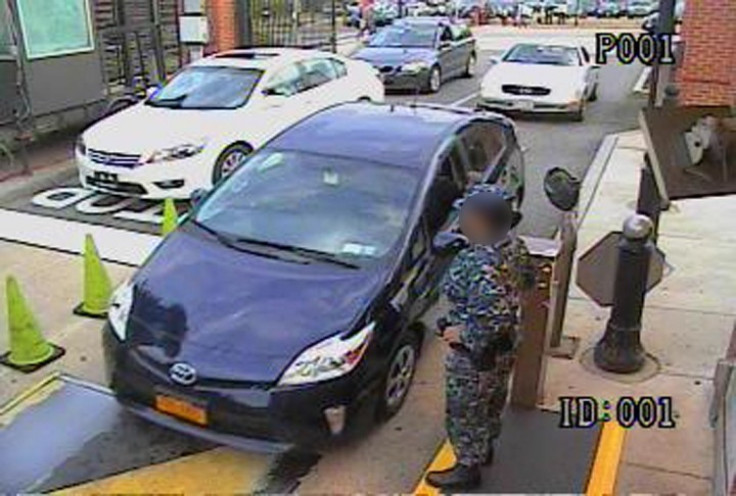 The Federal Bureau of Investigation today released the first video footage of Aaron Alexis, the Washington Navy Yard shooter, on the day he killed 12 people before being gunned down by police.
In a press release, the FBI laid out some of the details surrounding the case, including Alexis' background as a contractor for an information technology firm, as well as a timeline of events leading up to and during the shooting.
"On Saturday, September 14, 2013, Alexis purchased a Remington 870 shotgun and ammunition at a gun shop in Northern Virginia," the press release states. "On the same day, Alexis also purchased a hacksaw, among other items, at a home improvement store in Northern Virginia."
"On the morning of Monday, September 16, 2013, Alexis arrived at the Washington Navy Yard," the FBI said. "Alexis had legitimate access to the Navy Yard as a result of his work as a contractor and he utilized a valid pass to gain entry to Building #197. Shortly after his arrival in the building and over the course of approximately one hour, Alexis used the Remington 870 shotgun and a Beretta handgun he obtained during the course of his shooting to kill 12 victims and wound four surviving victims before he was shot and killed by law enforcement officers. Investigation to date has determined that Alexis acted alone."
"Both weapons used by Alexis were recovered at the scene and have been submitted to the FBI Laboratory for forensic analysis," the FBI said. "The Remington 870 shotgun had been altered with a sawed-off barrel and stock. Purple duct tape covered the end of the stock and handwritten etchings were present on various parts of the shotgun. Etched into the barrel of the shotgun were the words "End to the torment!" Etched into the right side of the shotgun receiver were the words "Not what yall say!" and etched into the left side of the receiver were the phrases "Better off this way!" and "My ELF weapon!"
The FBI also went into Alexis' motivation for the shooting. "There are multiple indicators that Alexis held a delusional belief that he was being controlled or influenced by extremely low frequency (ELF) electromagnetic waves," the press release reads. "The etching of "My ELF weapon!" on the left side of the receiver of the Remington 870 shotgun is believed to reference these electromagnetic waves. In addition, a document retrieved from his electronic media stated, "Ultra low frequency attack is what I've been subject to for the last 3 months, and to be perfectly honest, that is what has driven me to this."
Watch the chilling footage of Aaron Alexis on the day of the shooting below.
© Copyright IBTimes 2023. All rights reserved.