NBA Commissioner Denies Enes Kanter Freedom's Claims Of Being Blackballed
KEY POINTS
Kanter Freedom claims of being blackballed have been shot down by Adam Silver
Kanter Freedom was waived by the Houston Rockets
Silver stresses he has no problem with Kanter Freedom expressing his opinion
Enes Kanter Freedom would be an asset to any team for as long as his mind is set on only playing pro basketball.
But somehow, the 29-year-old has been left out in the cold since being waived by the Houston Rockets last February 14.
Before the trades happened, Kanter Freedom was making headlines for speaking out against human rights violations in China.
Before this, he also spent years criticizing Turkey.
In all, the 6-foot-10 cager's freedom of speech is well-documented.
With no team taking him in, he is under the impression that he is being blackballed, the same treatment that former NFL player Colin Kaepernick got when he made a stand against police brutality and racial inequality in 2016.
Reacting to his claims is NBA commissioner Adam Silver. He has denied the allegations that the league has blackballed Kanter Freedom and made it clear that the cager was free to speak whatever was in his mind, the New York Times reported.
"We spoke directly about his activities this season," Silver told the Times, "I made it absolutely clear to him that it was completely within his right to speak out on issues that he was passionate about."
Regardless, Kanter Freedom feels otherwise.
"It doesn't take a rocket scientist to realize why I got little playing time and was released," Freedom said. "But it does take people with a conscience to speak out and say it's not right."
Before he was waived, Kanter Freedom's last game was for the Boston Celtics. He scored seven points and hauled 12 rebounds.
In total, he played only 35 games this 2021-22 season and averaged a measly 3.7 points and 4.6 rebounds in 11.7 minutes of action.
Considering he owns career averages of 11.2 points and 7.8 rebounds, Kanter Freedom was not a fit for the Celtics to begin with.
Hence, the reason why other teams may be passing up on him, for now, is because he has hardly done anything to entice getting a new contract–aside from the fact that his non-basketball-related rants may be distractions NBA clubs do not need right now.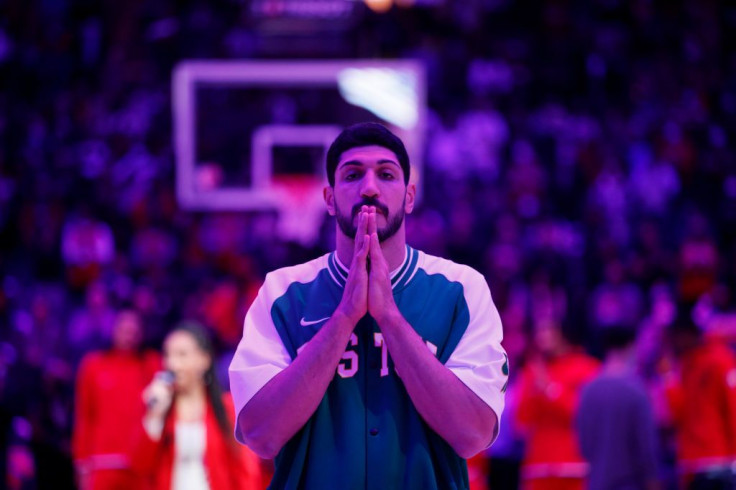 © Copyright IBTimes 2023. All rights reserved.