NBA Draft Lottery 2015: What's The No. 1 Pick Worth To Teams?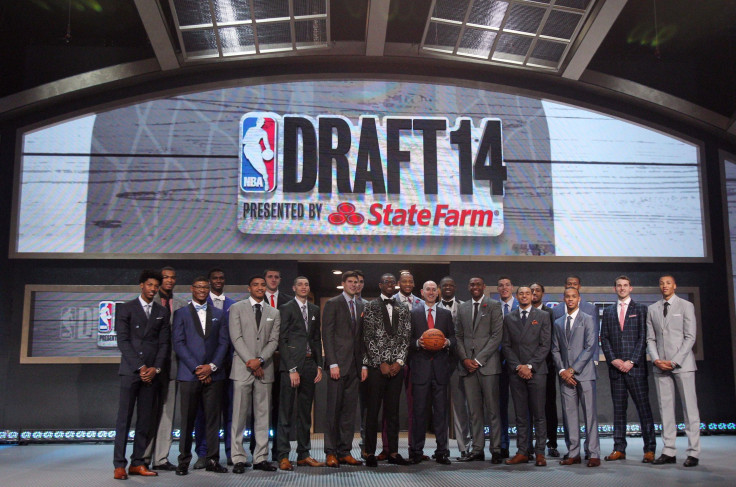 Tuesday just might be the most important day of the year for some National Basketball Association franchises, despite the fact that their 2015 season wrapped up more than a month ago. It's an odd disconnect. But when the NBA's draft lottery begins -- and pingpong balls start bouncing around a glass container to randomly determine which franchise receives the prized No. 1 overall selection -- a handful of teams will be holding their collective breath for the chance at landing the top pick.
The NBA's lottery system ensures that chance plays a part in determining which team gets the top pick. The Minnesota Timberwolves, for example, had the league's worst record and now have the best odds at 25 percent to win rights to the draft's first selection. Tanking, or losing purposefully in order to get the top pick so as to jump-start a franchise's rebuilding process, has become a hot-button topic surrounding the draft. The Philadelphia 76ers -– who have jettisoned experienced players for assets and drafted high-risk, high-reward players -- are leading that conversation. In a sport in which one player can take over a game, the chance at a generational talent leads teams to maneuver desperately for the first pick in the draft.
Tuesday night's pingpong balls will tumble out a random draft order as fans of underachieving teams such as the Timberwolves, 76ers, Los Angeles Lakers and New York Knicks will watch anxiously, hoping for the first overall selection and the chance to likely add Duke University's Jahlil Okafor or the University of Kentucky's Karl-Anthony Towns to the roster. Yet is there really a marked difference between a first overall pick and, say, a number three pick? Just this year, James Harden -- a past number three overall selection -- dominated the league and nearly won the MVP Award. There is, of course, value in a number one overall selection for a franchise -- both on and off the court -- but the difference between a top pick and other elite prospects might not be as stark as those hoping for the top spot might think.
Win-shares is a basketball statistic that measures, over the course of a player's career, how many wins that player adds to his team. Going back 20 years to the 1994 NBA draft, number one picks have added an average of 55.67 wins to their teams throughout their careers, while No. 3 picks have added an average of 48.31, using basketball-reference.com's win-share statistics. While the timeline is a bit arbitrary and it is an imperfect measurement, that provides a good baseline for the difference between a top pick and an elite pick. Players taken in both slots performed well, but as a group, top picks will likely perform better than their lottery-selection colleagues. "There's absolutely a gap," said Jonathan Givony, owner of Draft Express, a leading scouting resource for the NBA Draft.
It makes sense that first overall selections, as a trend, would perform better than other elite picks. Franchises carefully choose the first pick, uninhibited by other teams' selections. A variable in the draft process is removed. Draft Express has tracked the performance of players taken in each draft position every year (e.g., number one overall, number two, number three, etc.) using a variety of statistics. When figuring a player's per-minute efficiency, or PER , a median number one overall selection might look like current all-star point guard John Wall, according to Draft Express. A median number three might look more like retired small forward Jerry Stackhouse. In just five seasons, Wall has played in as many All-Star Games (two) as Stackhouse did in his 18-year career. A league average PER is about 15. New Orleans Pelicans center Anthony Davis, a former number one overall pick, led the league this year with a 30.89 PER, according to ESPN's metrics. Over time, number one picks tend to play better, with a PER hovering around 18-20, while second and third picks are closer to 15-18, according to Draft Express. And that makes sense. But on a case-by-case basis, the value of a top pick -- and his performance on the court -- can swing in either direction.
"It's not an equal playing field in the NBA," Givony said. "Some teams take a guy who's good and make him great. Some teams take someone who's great and make him average."
Talent is important, but molding that talent matters as well. Not to mention first-pick busts happen regularly. Famous cases like Kwame Brown, taken by the Washington Wizards in 2001, come to mind. Over a 12-year career he was worth barely more than 20 win-shares, while the number three overall pick that year -- All-Star forward Pau Gasol -- has been exceeding more than 123 (and counting). Wild cards happen, such as debilitating injuries. Givony pointed to Greg Oden, a stellar prospect (taken first before former MVP Kevin Durant) who was never really able to recover from a slew of setbacks and knee injuries. It's anyone's guess what happens each year, Givony said.
A number one selection also has added clout and responsibility. Fans jump on the bandwagon because they've landed the best young player. Picking number one overall boosts attendance 5 percent for the next five full seasons, according to a study from the MIT Sloan Analytics Conference (via Forbes). "[The first pick] can be an economic juggernaut," said Mark Conrad, who runs the sports business program at Fordham University in New York City. "It would create a buzz, popularity which could translate into dollars."
At the same time, making a first overall selection can be a daunting task. There's added weight to the selection. It can be the big step in a rebuild for a franchise, but the team is also "taking [its] chances too," Conrad said. The decision-makers have to get it right and the odds are in their favor. Since 1947 there have been 17 All-NBA players taken at number one overall, 20 MVPs and 43 All-Stars, according to Rukkus. Since the 1994 draft, top picks have combined for 73 All-Star appearances and eight MVP wins. Over the same time, number three overall selections have appeared in just 39 All-Star games and haven't won a single MVP Award.
So Tuesday night, fans will be hoping their favorite team lands the number one pick. But then again, if the pingpong balls don't bounce their team's way, it's not the end of the world. After all, Michael Jordan was taken with the third pick, and he turned out all right.
FOR FREE to continue reading
✔️ Unlock the full content of International Business Times UK for free
offer available for a limited time only
✔️ Easily manage your Newsletters subscriptions and save your favourite articles
✔️ No payment method required
Already have an account?
Log in
© Copyright IBTimes 2023. All rights reserved.