NBA Icon Scottie Pippen Name-Drops LeBron James In Michael Jordan Dig
KEY POINTS
Scottie Pippen's new memoir "Unguarded" will be out Tuesday
An excerpt from the book revealed Pippen's shocking take on Michael Jordan's legacy
Jordan has acknowledged Pippen's contribution to his success
NBA legend Scottie Pippen is certain that "The Last Dance" was not about the Chicago Bulls but rather Michael Jordan pointing out why he is still on top of everybody else in the sport.
Ahead of the release of his new book, "Unguarded," Pippen vowed to divulge the truth behind his legacy and the widely recognized Bulls dynasty he spearheaded alongside Jordan in the '90s. The book will be out Tuesday, but GQ recently published an excerpt of the six-time NBA champion's memoir.
In it, Pippen claimed that instead of lifting the lid on the Bulls' road to victory in ESPN's 10-part docuseries "The Last Dance," Jordan just tried to "prove" that he has yet to be surpassed by other NBA greats, including LeBron James.
"To be a member of the Bulls during the 1990s was to be part of something magical," Pippen wrote. "For our times and for all time. Except Michael [Jordan] was determined to prove to the current generation of fans that he was larger-than-life during his day—and still larger than LeBron James, the player many consider his equal, if not superior."
"So Michael presented his story, not the story of 'The Last Dance'," he continued.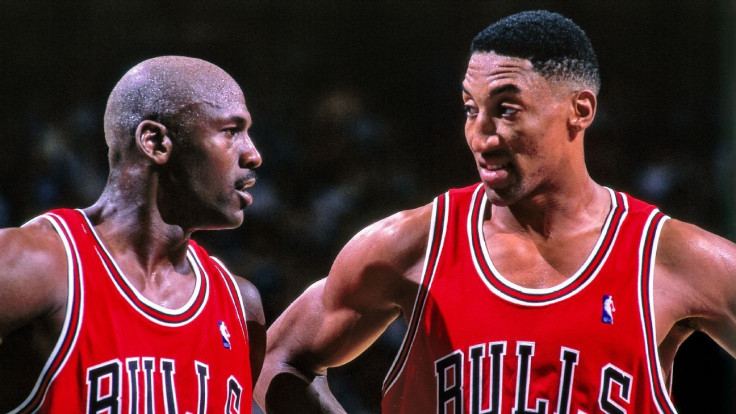 In an earlier exclusive interview with GQ, Pippen had a different explanation as to why he became famous for being Jordan's "sidekick."
According to Pippen, it was not Jordan's fault. Instead, it was the "public perspective." He also emphasized that people around Jordan at the time, including the media, wanted so badly to "get close" to him that they became his "cheerleaders" in the process.
Pippen reiterated this view in his book, lashing out at Jordan and the docuseries for allegedly using him as "a prop" and not highlighting his true value as a player.
"They glorified Michael Jordan while not giving nearly enough praise to me and my proud teammates," the NBA Hall of Famer claimed. "Even in the second episode, which focused for a while on my difficult upbringing and unlikely path to the NBA, the narrative returned to MJ and his determination to win."
"I was nothing more than a prop," he continued. "His 'best teammate of all time,' he called me. He couldn't have been more condescending if he tried."
Jordan has yet to comment on Pippen's recent claims. The only thing concrete at this point is that Jordan had credited Pippen for being of great help to him in "The Last Dance."
"He helped me so much in the way I approached the game, in the way I played the game," Jordan said in the documentary. "Whenever they speak Michael Jordan, they should speak Scottie Pippen."
© Copyright IBTimes 2023. All rights reserved.