NBA: Kobe Bryant 'Celebration Of Life' Highlighted By Vanessa Bryant's Tribute
KEY POINTS
Kobe Bryant's memorial was a 'Celebration Of Life'
Kobe Bryant and his daughter Gigi were remembered at Staples Center on 2/24
Vanessa Bryant highlighted a side of Kobe beyond basketball
It was a celebration of life at Staples Center as the NBA honored the late great Kobe Bryant. It was held on February 24 to represent Kobe's daughter Gigi's and his numbers, 2 and 24. Thousands of fans along with celebrities, artists, players, and legends gathered to pay their respects for the Laker legend.
Kobe will forever be known as one of the fiercest competitors of all time. He is a five-time champion who always expected the best from everyone on the floor. He has accomplished so much because of how he always worked on how to improve his game.
His Mamba Mentality to this day influences beyond the basketball court. He serves as an inspiration on how hard work, grit, and a focused mindset can lead to success. His desire and hunger to continuously grow and be better have been lauded as one of the best the world has ever seen.
But during the memorial, Vanessa Bryant highlighted a side of Kobe that only a select group of people has seen. Kobe, the former MVP, was the loving father of his children and the best friend of his wife. " I couldn't see him as a celebrity nor just an incredible basketball player. He was my sweet husband and the beautiful father of my children. He was mine. He was my everything," Vanessa said per CNN's official transcript.
While Kobe will be known as a ferocious opponent on the floor with his elite skill set that can torch defenders for days, Vanessa remembers him in other ways. "Kobe was the MVP of girl dads, or MVD. He never left the toilet seat up. He always told the girls how beautiful and smart they are. He taught them how to be brave and how to keep pushing forward when things get tough."
The celebration of life wasn't just a way to look back at Kobe's illustrious career. It's known that the 18-time NBA All-Star is one of the best to ever play but he will always be immortalized as a man who loved and served his family first.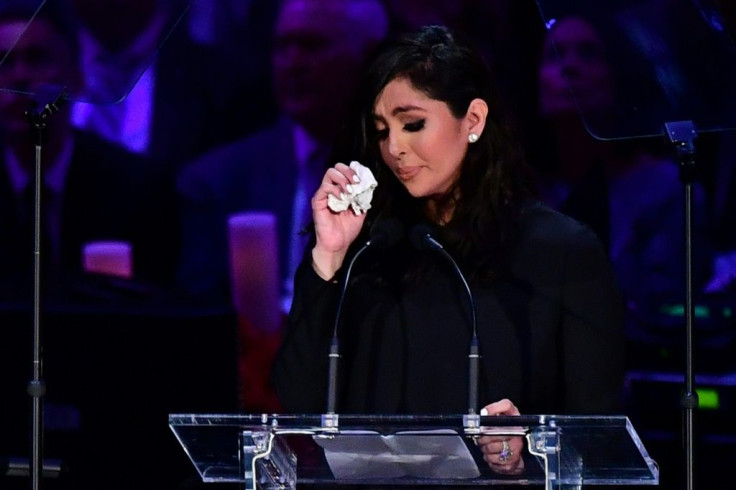 © Copyright IBTimes 2023. All rights reserved.