NBA News: Sixers Continue To Deal With Ben Simmons' Mind Games
KEY POINTS
Ben Simmons opts to train in a different basketball facility for unknown reasons
Doc Rivers chooses not to comment on the ongoing holdout of Simmons
The Sixers may resort to new fines after the latest development
The Ben Simmons case has hardly been making any noise the past weeks, but it appears a new development has cropped up.
Not long after the Australian cager was spotted working on his jump shot at the Wells Fargo Center, moments before Philly was set to face the Minnesota Timberwolves last Saturday, November 27, according to Keith Pompey of the Philadelphia Inquirer.
That sighting instigated the belief that the 25-year-old could be nearing a return to action. Unfortunately, it was the exact opposite.
In the latest update provided by Howard Eskin of Fox 29, Ben Simmons has moved to another facility to work out.
The former top pick is now working out at the Fitler Club court.
It remains unclear if Simmons encountered some problems when he worked out at the Sixers base.
For now, nothing has changed and it appears the 2018 NBA Rookie of the Year is still waiting for a deal to go down.
Simmons continues to use his mental health problem as his reason for sitting out games.
Not many are buying it, but one person who has opted to move on from the fiasco is Sixers coach Doc Rivers.
Rather than comment on the Simmons' issue, the one-time NBA coach stressed he would rather focus on his coaching gig and let top management handle the situation, Sixers beat writer Justin Grasso reported.
"I literally don't even talk about it. I coach the team and the guys that I can see every day," Rivers stated. "I let Daryl Morey (team president) and Elton Brand (general manager) deal with all of the other stuff."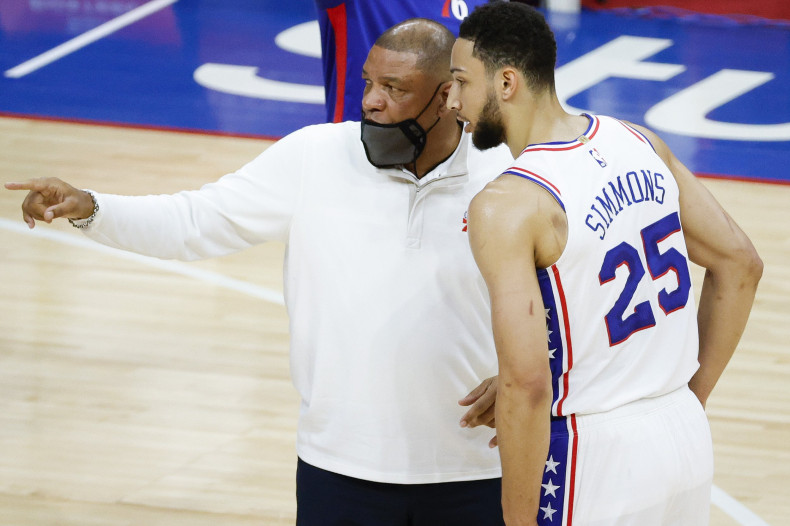 With Simmons opting to train in a separate facility, it will be interesting if Philly makes another move and potentially fine the three-time All-Star.
© Copyright IBTimes 2022. All rights reserved.