NBA Rumors: Brooklyn Nets Won't Have Ben Simmons To Start 2022 NBA Playoffs
It's looking more and more likely that Ben Simmons won't play for the Brooklyn Nets this season. The three-time All-Star hasn't played a game all year, and that isn't expected to change for the start of the 2022 NBA playoffs.
Simmons probably won't be ready to suit up for the Nets when the postseason begins, according to The Athletic's Joe Vardon, who reports that Simmons isn't close to playing. The NBA playoffs start on April 16.
Brooklyn will almost certainly have games in between the first round of the playoffs and the conclusion of the regular season on April 10. As the No. 8 seed in the Eastern Conference, the Nets are on track to be in the play-in tournament.
Before the Feb. 10 trade deadline, Simmons didn't play a single game all season as he sought a trade from the Philadelphia 76ers. When Simmons, Seth Curry, Andre Drummond and draft picks were sent to Brooklyn in exchange for James Harden and Paul Millsap, it appeared that Simmons would take the court within a few weeks.
A back injury, however, has derailed Simmons' return. Simmons received an epidural shot for his herniated disc last week, signaling that the 25-year-old could miss an entire year of basketball.
Brooklyn has been favored to win the East for the entire season because of its three All-Stars. Kevin Durant might be the best player in basketball. Kyrie Irving has been brilliant in 2022, and he's now allowed to play in both home and road games. Simmons was supposed to take Harden's spot as the Nets' third star.
Simmons hasn't played in an NBA game since Game 7 of the conference semifinals on June 20. If Simmons manages to return for the second round of the playoffs, he'll have spent 10 months off the court.
Making it to the second round of the postseason won't be easy. Brooklyn first has to earn a playoff spot in the play-in tournament. As the No. 7 or No. 8 seed, the Nets will likely have to face either the Miami Heat or Milwaukee Bucks in a first-round playoff series.
Milwaukee defeated Brooklyn 120-119 in overtime Thursday. Giannis Antetokounmpo totaled 44 points, 14 rebounds and six assists in the victory.
Antetokounmpo has defeated Kevin Durant in five straight matchups, dating back to last year's postseason.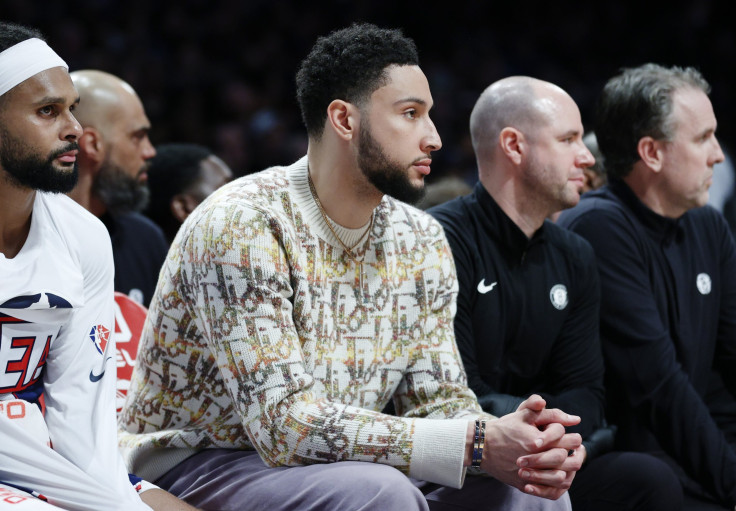 © Copyright IBTimes 2023. All rights reserved.