NBA Rumors: Cavaliers Believe Bickerstaff Can Bring Back Glory Days
KEY POINTS
Cavs reward Bickerstaff with contract extension
Bickerstaff is doing well keeping Cavs together
Thompson and Love could be staying around moving forward
The past weeks have seen positive feedback on JB Bickerstaff who took over as head coach of the Cleveland Cavaliers from John Beilein. Most have come from players who were almost sure to be stepping out the door. It appears Cavs management took note of these and is now rewarding the 41-year-old mentor.
According to Adrian Wojnarowski of ESPN, Bickerstaff's new contract will see him at the helm through the 2023-24 NBA season according to unnamed sources. The Cavs are 5-5 since Bickerstaff took over but the rejuvenated roster is seen as the most glaring development.
Several players have already spoken on the positive influence Bickerstaff has had. Tristan Thompson lauded the new Cavs coach and even ranked him beside Steve Kerr, Doc Rivers, and Tyronn Lue. The Canadian singled out how Bickerstaff could read people and is good with personalities. It was a rare compliment from the 28-year-old big man who will become a free agent this summer. Though nothing has been mentioned, there is now a big possibility that Thompson could opt to stick it out with the Cavaliers.
Another player who spoke highly of Bickerstaff is rising star guard Collin Sexton. In another previous post, the sophomore guard revealed how the team now has renewed energy and that the team has a direction. Further, communication lines are open and it appears all are now synced in with a purpose in mind.
These developments are good signs for the Cavaliers who are already out of the NBA playoff picture. Right now, the Cavs are using their remaining games to figure out improvements needed along the way. They dropped their last assignment and tote a 19-46 win-loss card. A logical first goal is to avoid finishing dead-last this season although tanking could reward them with a high pick in the 2020 NBA Draft.
The Cavs have 17 games to go and somehow the needs have been identified. In close monitor is Thompson and Kevin Love. Love has been the subject of trade rumors recently and there is a chance he could be shipped out. But with the new camaraderie brewing, the 31-year-old could just stay and take on the lead role as the Cavs had originally planned last summer. The five-time NBA All-Star lauded the atmosphere and seemed to be singing a different tune. It remains to be seen if that indicates he is no longer seeking a move out of Cleveland.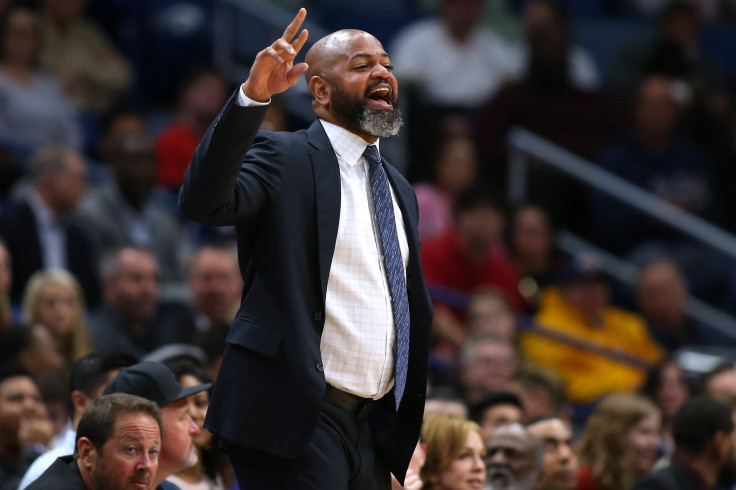 © Copyright IBTimes 2023. All rights reserved.