NBA Rumors: Disgruntled Sixers Star Open To Joining Spurs, Eyes To Improve Shooting Touch
KEY POINTS
Ben Simmons is considering a move to San Antonio and be mentored by Gregg Popovich
The Spurs could help Simmons address his shooting deficiency
Sixers president is standing firm on wanting a star player in exchange for Simmons
Ben Simmons is still waiting for a new team to welcome him with open arms, and several names have surfaced.
But the latest NBA team which the former top pick is reportedly open to joining could make sense–the San Antonio Spurs.
According to Marc Stein via his Substack page, the 25-year-old cager is allegedly open to the possibility of suiting up for the Spurs.
Under Gregg Popovich, there is no question that Simmons' skill set can dramatically improve.
The 72-year-old has been credited to a number of players in the past such as Kawhi Leonard, Danny Green and Patty Mills, all of whom have blossomed in their NBA career.
More so, the Spurs could be the place where Simmons can finally address a long-standing issue–shooting.
The coach is perhaps one of the notable names who can help the Australian cager shoot better from the perimeter or the three-point region, a flaw that could help boost the stock of Simmons.
But like most, that opportunity will be wishful thinking for now. The fact remains that Philly is looking for a good package in exchange for the All-Star guard.
Given that the Spurs are technically a non-contending team, there is no credible name that Sixers president Daryl Morey may be open to getting. That is unless a third team enters the fray with a notable name enters the picture.
The bottom line is that Morey wants a young star-caliber player to join Philadelphia. They are not interested in future picks or players who have not proven themselves at this point.
Hence, the Spurs are an option but not promising.
So for Simmons, the waiting game continues and it appears that unless he plays for the Sixers, a move to any other team may not be beneficial compared to what he is known for the past seasons.
The last update on anything about Simmons is that Damian Lillard of the Portland Trail Blazers would want to play alongside the three-time All-Star.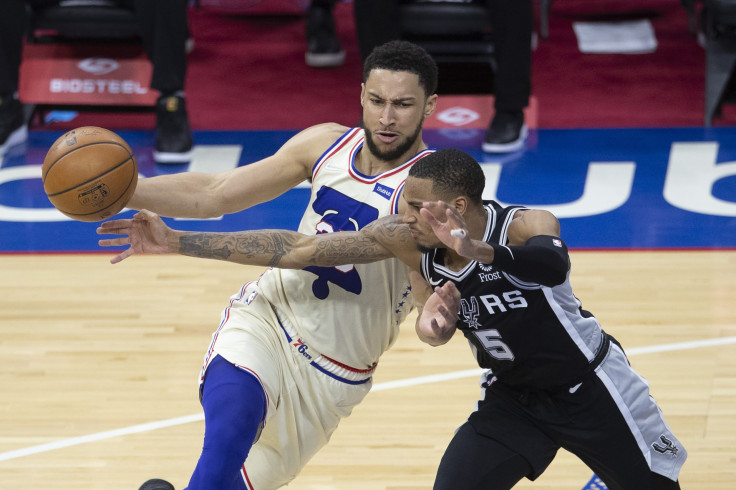 It was suggested that CJ McCollum would be the fall guy in a potential trade. But with the Sixers showing no interest, that scenario has been shelved.
It was punctuated by the fact that McCollum was diagnosed with a collapsed right lung and is now sidelined indefinitely, ESPN reported.
McCollum suffered the injury in the Blazers' loss to the Boston Celtics last Saturday, December 4.
© Copyright IBTimes 2023. All rights reserved.