NBA Rumors: Knicks May End Up Breaking Barrett-Randle Tandem
KEY POINTS
Randle hit for holding the ball too much during games
Barrett frustrated with Randle's shooting
Knicks may have to break up Randle-Barrett duo
The New York Knicks are one of the teams who could care less if the 2019-20 NBA season ever does resume. They are practically out of the playoff race and are simply going through the motions of finishing the current season. Their predicament is a total mess and major personnel movement is expected in the offseason.
So far, the Knicks just have two players with guaranteed deals. They are RJ Barrett and Julius Randle. Somehow, this hints that other players are not entirely certain of coming back next season. That all depends on what new team president Leon Rose decides on after an expected evaluation of the team's performance and current manpower compliment.
But in a recent report from the New York Post, it appears that Randle may not be a player who could last very long. He has been criticized for holding the ball too much, depriving others of the opportunity to help and/or score. One player allegedly miffed by it is Barrett. The rookie is frustrated with Randle's tendency to hog the ball. Marc Berman added that practically the whole team feels the same way except for Elfrid Payton.
This season, Randle has been putting up good numbers. In 64 games, he has averaged 19.5 points, 9.7 rebounds and 3.1 assists, per Basketball-Reference.com. And while those numbers look impressive, most of his points have come from near the basket. He is a horrible three-point shooter (27.7 percent) but owns a high field goal percentage (51.5 percent). And this is seen as the reason why Barrett has grown frustrated.
Other than his offense, Randle has been criticized for playing poor defense. Unless the 25-year-old forward can tweak his game to blend in with his teammates, he could encounter trouble not only with the Knicks but future teams he could end up playing with.
For Barrett, it is a process that he needs to get acclimatized to. Despite being hyped as one of New York's future stars, the fact remains that he is just in his rookie season. For the Knicks, if Barrett and Randle are unable to get along then something must be done. The season is currently on hiatus and it may be a good time for all parties involved to cool down a bit in the walls of their homes.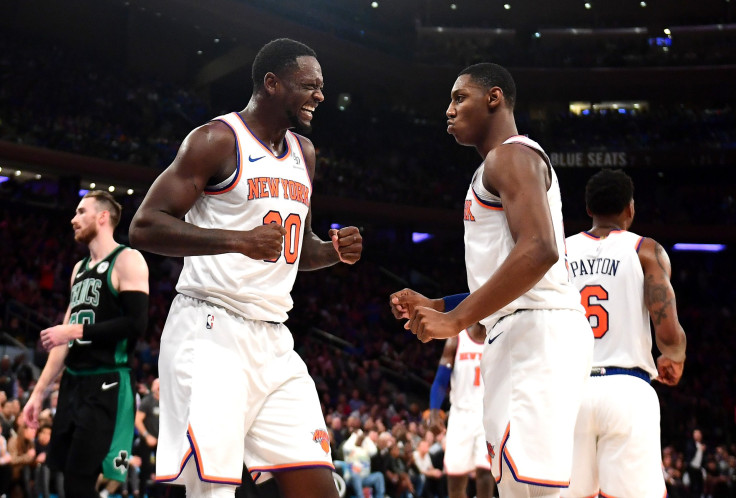 © Copyright IBTimes 2023. All rights reserved.