NBA Rumors: Pelicans' Zion Williamson Returning To New Orleans Amid Rehab
KEY POINTS
Zion Williamson is returning to New Orleans to continue rehab for his injured foot, a report says
Williamson reportedly has been cleared to progress in basketball activities
The Pelicans have not provided a timeframe on when Williamson will return to action
Zion Williamson appears to be inching closer to a return to action for the New Orleans Pelicans.
Williamson, who has yet to play in a game for the Pelicans this season after undergoing foot surgery over the offseason, is leaving Portland and returning to New Orleans to continue his rehab at team facilities, Shams Charania of The Athletic reported, citing unnamed sources.
While he is not yet returning to game action, this update means Williamson will start doing his rehab around his teammates.
The 21-year-old has been cleared to progress in basketball activities, according to Charania's sources — a good sign that Williamson's recuperation is going well.
The report comes as the Pelicans rack up four straight wins, bolstering their playoff bid. It should, however, be noted that Williamson will remain in New Orleans and will not join the team on road trips.
The New Orleans Pelicans recently set the record straight on rumors claiming that the 6-foot-6 cager may need a second foot surgery.
"Recent imaging showed improved bone healing of the fifth metatarsal in Zion Williamson's right foot. He will gradually progress to full weight-bearing exercise and basketball activities. He remains out indefinitely," the statement posted via Twitter read.
The developments somehow address reports claiming that Williamson is not an engaged teammate and does not trust Pelicans general manager David Griffin, NBC Sports reported.
The reports popped up after newly-acquired player CJ McCollum revealed during an interview with Mason Ginsberg of Bourbon Street Shots that he had not yet spoken to Williamson almost 10 days after his trade.
"I haven't had conversations with him directly. I've spoken with some people close to him and look forward to sitting down with him sooner than later. I know about as much as you do right now, but I'm gonna get to the bottom of it," McCollum said.
McCollum later revealed that he and Williamson have since spoken several times.
There is still no clarity on whether or not the top pick of the 2019 NBA Draft will be able to return and play for the Pelicans this season.
As of this writing, the Pelicans (27-36) currently sit in the 10th spot of the Western Conference and are half a game behind the Los Angeles Lakers (27-35).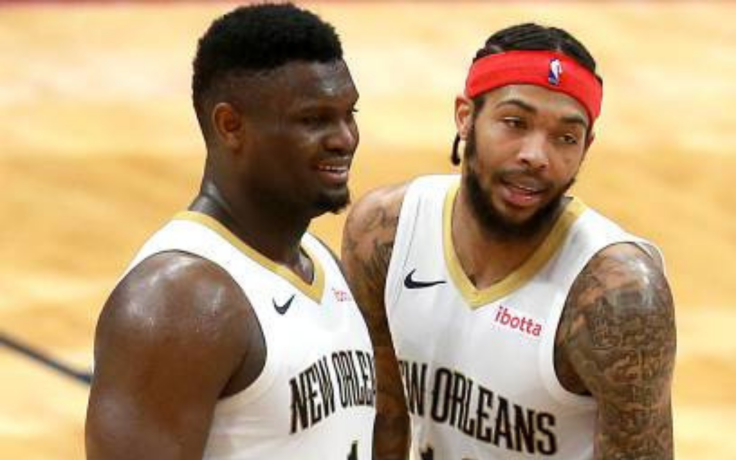 © Copyright IBTimes 2023. All rights reserved.