NBA Rumors: Philadelphia Needs To Trade Joel Embiid To Aid 76ers' Offensive Struggles
KEY POINTS
Joel Embiid is less effective in pick-and-roll situations than Alex Len and Bismack Biyombo
Al Horford is playing the power forward position to avoid conflict with Embiid's playing time
Embiid have nobody to pass the ball to from the three-point line with shooters from last season gone
As Joel Embiid is about to rest his surgically-repaired dislocated ring finger, it may be a perfect time to evaluate the team's progress while he's at the sidelines.
The Sixers' main big man dislocated his finger about a week ago as he is trying to contest a shot by Thunder forward Darius Bazley in their 120-113 win in Oklahoma City. He held on to his hand and it was, later on, revealed he also torn his ligament on that finger.
Sean Keane of Yardbarker wrote that the combination of Embiid and guard Ben Simmons is not providing the numbers, especially from the beyond the arc. With Embiid feasting on the post more than thirds of his total possessions every time he touches the ball, he is forced to power himself to the post for either a deuce of a trip to the stripe at the least.
Seeing the 7-foot-2 center from Cameroon dish the ball to their designated shooters where he proved to be the most effective, he does not have the luxury of doing so with their snipers during their last playoff run now wearing different jerseys. JJ Redick is now on the New Orleans Pelicans and Jimmy Butler is wearing blue and pink in Miami.
Coach Brett Brown reportedly urged his Australian guard to take more threes but the former number one pick isn't responding to the call, only taking five shots this season from beyond the arc – making two of them. During pick-and-roll situations, he isn't providing the numbers he's expected to produce as all the opposing team needs to do is to just shadow him wherever he goes as they prefer Al Horford or Simmons taking. His attitude in closing out big men shooting three-pointers is also being looked at as he appears to be not comfortable doing it.
Horford slides to the four spots as his position is taken by JoJo and is not performing well as he plays the center position and with Tobias Harris also playing his position, there's a lot of clash in the rotation. Without Simmons unwilling to shoot the three and Embiid not fond of running down the floor, it's a recipe for disaster. If the team is playing fast with Simmons but settles for a half-court set when Embiid is around, giving the impression that Embiid should go, especially with the Horford-Simmons combo is playing better than him and Simmons.
Embiid will be sitting out for two weeks and this is an opportunity for him to read the plays from the sidelines to see where he needs to tweak. He's currently leading the team in points per game (23.4), rebounds per game (12.3) and blocked shots per game (1.4) while adding 3.3 assists in 31 minutes per outing.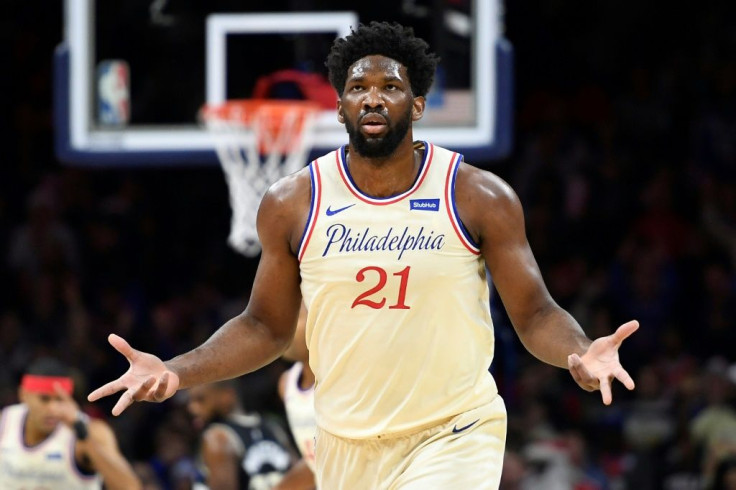 © Copyright IBTimes 2023. All rights reserved.
FOLLOW MORE IBT NEWS ON THE BELOW CHANNELS