New Year's Eve 2015: New York City Free Events Include Fireworks, Times Square Celebration And Dance Parties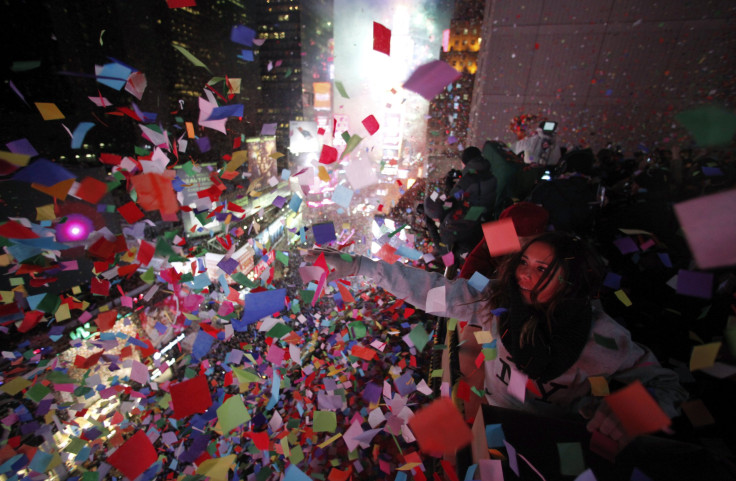 New Year's Eve events in New York City are notoriously expensive, with many bars, restaurants and other venues significantly inflating their prices in anticipation of the evening's festivities. But, like all things in New York, knowing where to look can end up saving a lot of money, especially given the range of inexpensive or free New Year's activities set to take place Wednesday night. Whether you're in the mood to try something creative or simply interested in having a great view of the fireworks, there are plenty of options as you plan to ring in 2015. Below is a roundup of some of the best ideas.
Fireworks on the Staten Island Ferry: New York harbor is an amazing vantage point from which to view the fireworks displays in Manhattan, Brooklyn and New Jersey. Many companies offer pricey cruises on the river for just this purpose, but there's no reason to shell out the big bucks when the Staten Island Ferry will do the same for free. The ferry might not be the most glamorous venue, but the 30-minute trip through the harbor will nonetheless offer breathtaking views of the city during the fireworks. Don't forget the ferry runs every 30 minutes, so try to time your arrival to the ferry's Manhattan Whitehall terminal accordingly.
Purple Rain Dance Party: Williamsburg's Videology bar is holding a screening of Prince's seminal 1984 hit Purple Rain at 9:30 followed by a free dance party featuring music from the '70s, 80's and 90's. "Dress up in your best lace and velvet costumes and drink our special Prince cocktails, the Apollonia and the Crying Dove!" according to the bar's website.
New York Road Runners Midnight Run: Get a head start on your New Year's fitness resolutions with this midnight run in Central Park, organized by the New York Road Runners. The four-mile run begins at the stroke of midnight at 72nd Street near Bethesda Terrace. While participating in the run itself can cost up to $65, the pre- and post-race celebrations at the Central Park Bandshell, featuring a DJ and live performers, are free and open to the public.
Concert for Peace at Saint John the Divine: This annual New York tradition was started by famed composer Leonard Bernstein in 1984 to ring in the New Year on a note of hope. In the setting of one of New York's most historic cathedrals, participants sing and light candles to celebrate the spirit of peace. Tickets to the event are free but offered on a first-come, first-serve basis, so be sure to arrive well ahead of the 7 p.m. start.
Time's Up Party Ride: Another athletic option to get 2015 off on a healthy foot is "party ride," organized by a local grassroots environmental group, which urges people to bring their bikes and skates for a festive (and free!) ride into the middle of Central Park. The party begins at the Washington Square Park arch at 10 p.m. and will end in Central Park's Belvedere Castle. The only thing you have to remember is to "dress festive" and not "forget your noisemakers and party favors," the party's organizers said.
Midnight Meditation: If you're interested in beginning 2015 on a quiet, reflective note, try the midnight meditation offered by the Jivamukti yoga studio, which opens all of their yoga rooms to the public at 9 p.m. for a silent "mauna" reflection. If you want to add a little fun to your zen, get there an hour earlier and you also get a free dance party!
Times Square Ball Drop: While not exactly the most creative option, this New Year's standby offers an opportunity to watch the ball drop in person surrounded by more than a million people in the "crossroads of the world." Arrive early to reserve a good spot, with the Times Square Alliance recommending areas on Broadway between West 43rd and West 50th Streets, and Seventh Avenue up to West 59th Street for the best views. Don't forget to leave your bag at home as police will not allow you past the barricades if you have one.
© Copyright IBTimes 2023. All rights reserved.