New York City Motorcycle Attack: Undercover Cop Was Part Of Biker Gang In Assault On SUV Driver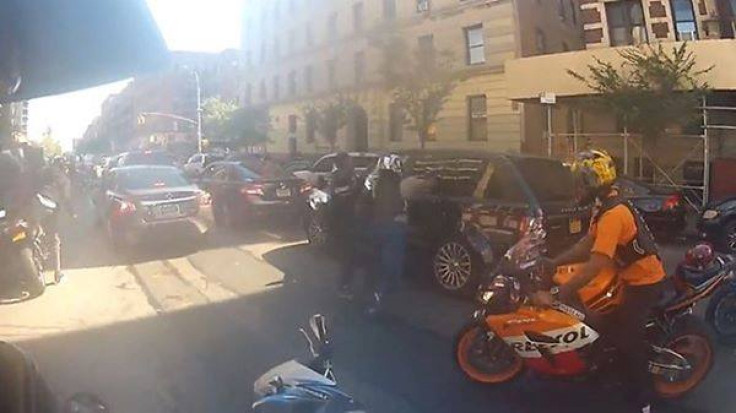 The story about the New York motorcycle gang that brutally assaulted the driver of a Range Rover on Sept. 29 just took an interesting turn, as an off-duty, undercover officer with the New York Police Department was apparently one of the bikers on the scene.
According to the New York Post, the unidentified narcotics officer stood by as Alexian Lien was pulled from his vehicle by the biker mob and beaten and slashed. He was reportedly worried about blowing his cover. "It is does [sic] not appear that he got involved at the scene," a law-enforcement source told the Post.
The Post said the officer is part of a New Rochelle-based biker group called the Front Line Soldiers, which counts several cops among its ranks. The undercover officer came forward on Wednesday night, some four days after the road-rage incident. He has obtained the services of an attorney.
The NYPD Internal Affairs unit is investigating whether other police officers riding with the Front Line Soldiers either participated in or witnessed the attack.
Meanwhile, police have identified the biker seen in the viral video beating in Lien's driver's-side window with his helmet as Reginald Chance, 38, of Brooklyn. According to the Post, there is no evidence yet to suggest that Chance led the assault on Lien. Chance has also obtained the services of a lawyer.
The case gained widespread attention as video of the incident went viral last Monday. On the afternoon of the previous day, Lien was driving along the West Side Highway in Manhattan. Biker Christopher Cruz hit the brakes in front of Lien's SUV, causing a collision. As other bikers surrounded Lien's Range Rover, he sped off, running over several motorcyclists. A chase ensued, which ended with Lien being beaten and slashed.
Some are calling for Lien to be charged over the incident, as one of the bikers, Edwin Mieses Jr., is reportedly paralyzed after being run over by Lien's vehicle.
In a statement, Lien's wife, Rebecca, defended her husband. "We were faced with a life-threatening situation, and my husband was forced under the circumstances to take the actions he did in order to protect the lives of our entire family," she said. "We were placed in grave danger by a mob of reckless and violent motorcyclists. We know in our hearts that we could not have done anything differently."
© Copyright IBTimes 2023. All rights reserved.