New York Politicians' Arrests In Election-Rigging Scheme Point To Larger Culture Of Corruption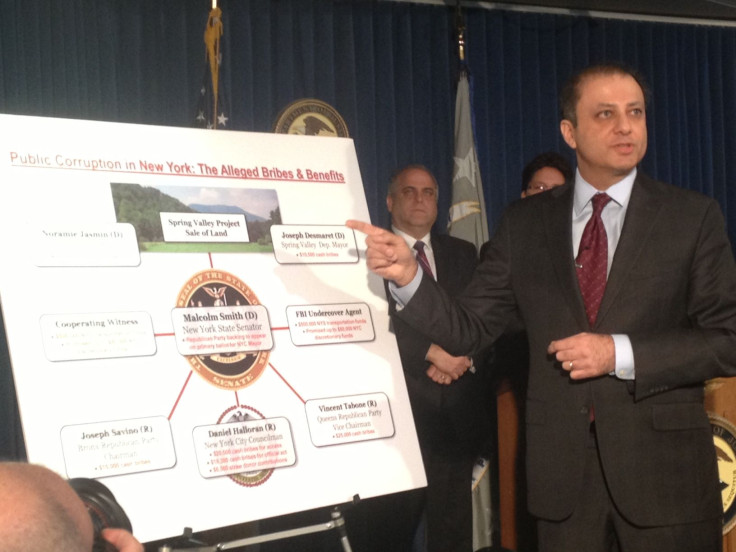 New York State Sen. Malcolm Smith, a Democrat, and Republican City Councilman Dan Halloran were arrested early Tuesday on federal charges that they conspired to rig the 2013 New York City mayoral race in a failed attempt to get Smith a place on the ballot as a Republican candidate.
A criminal complaint formally unsealed Tuesday details the alleged plot, which ensnares Smith, Halloran, Queens County GOP Vice Chairman Vince Tabone and Bronx Republican Party Chairman Jay Savino, along with two officials in the government of Spring Valley in Rockland County.
(In full disclosure, Halloran asked this reporter -- who covered him for nearly two years for TimesLedger Newspapers in Queens -- last year if he would consider working for or running his congressional campaign communications team. Halloran was the GOP candidate in the race for New York's 6th Congressional District seat at the time, which he lost in November to Democrat Grace Meng. This reporter declined the offer.)
Follow Connor Adams Sheets on Twitter
U.S. Attorney Preet Bharara laid out the sordid details of the alleged scheme during a press conference Tuesday in Manhattan, saying that it points to the "downright pervasive" nature of corruption in New York state and local politics.
"A show-me-the-money culture seems to pervade every level of New York government," Bharara said. "The complaint describes an unappetizing smorgasbord of graft and greed involving six officials who together built a corridor of corruption stretching from Queens and the Bronx to Rockland County and all the way up to Albany itself."
Scroll to the end of this article to view the full list of charges against the six named defendants and to read the full text of the criminal complaint.
More Charges To Come?
A number of Queens political observers said they believe the investigation -- which Bharara described as "ongoing" -- will likely result in other politicians being charged with bribery, corruption or other crimes as the plot continues to unfold.
"Everyone's saying Tabone's going to roll over like a cheap suit," a Queens Republican insider, who asked to remain anonymous, told the International Business Times via phone Tuesday, explaining that many observers believe Tabone will give information to the FBI, possibly to include dirt on other politicos, in exchange for leniency.
Adam Lombardi, a former Democratic campaign worker who now blogs about politics in Northeast Queens, speculated Tuesday about the case on his Queens Politics blog.
"The New York Post is calling the charges a massive bribery scheme whereby Smith and Halloran plotted to rig the mayoral election through bribes and fraud," he wrote. "Is Eric Ulrich next?"
Ulrich, a Queens Republican who worked closely with Halloran as a fellow member of the City Council's tiny Republican caucus, did not return calls from the IBTimes Tuesday afternoon. He has not been charged with any crime.
State Sen. Tony Avella, whose Northeast Queens Senate district overlaps with major portions of Halloran's council district, spoke Tuesday with the IBTimes about the case.
"Unfortunately I'm not surprised," Avella, a Democrat who has repeatedly butted heads with Halloran, said via phone. "The corruption in politics doesn't surprise me anymore. This is just the tip of the iceberg."
Republican mayoral candidate John Catsimatidis -- a billionaire supermarket mogul -- said in a Tuesday statement that he cooperated with the feds in the course of the investigation, even as it targeted Tabone, who works both as one of his campaign advisers and as an attorney for his company, the Red Apple Group. Catsimatidis was not named in the complaint, and he has not been charged with a crime.
"The arrests this morning point to a culture of corruption that permeates the politics of our city and state. Corruption that is fueled by career politicians who put personal advancement before public service," the statement reads. ""Earlier this year we learned that an investigation was under way and since that time my campaign and my business have fully cooperated with law enforcement."
Calls to two Halloran representatives went unanswered, but Todd Shapiro, a spokesman for Smith, spoke with the New York Daily News.
"The senator has a record of dedicated community and public service for over 13 years and will be vindicated when the truth comes out and looks forward to all the facts that will be coming out in the near future," Shapiro said.
Alleged Bribes And Recorded Conversations
The blockbuster criminal complaint alleges that Halloran and Tabone both accepted thousands of dollars in cash bribes during the course of the FBI investigation, which began in November, and mentions meetings that took place with an undercover agent as far back as 2011.
It goes on to detail repeated instances in which an undercover FBI agent posing as a real estate tycoon and an unidentified cooperating witness recorded conversations that allegedly implicate Smith, Halloran and Tabone in conspiring to buy Smith a spot on the GOP mayoral ticket.
Smith, a former state Senate majority leader who represents Southeast Queens, was viewed by most New York political observers to be at best a long-shot prospect to replace Mayor Michael Bloomberg at the end of his third term, and he never officially declared his candidacy.
But the complaint indicates that he had serious aspirations to do just that, and that he allegedly enlisted the help of an unlikely conspirator in Halloran to help him make his way onto the ballot.
New York City election law requires that non-GOP candidates secure the OK of three of the city's five borough party leaders before they can officially run on the Republican ticket.
As such, in order for him to consider such a move, it was essential that Smith find a way to get three of those leaders to back him, which the complaint alleges he attempted to do with the help of Halloran and bribes.
Halloran was enlisted, the complaint alleges, to work as a go-between, helping Smith gain access to Tabone and Savino.
And the complaint alleges that Halloran was to be rewarded handsomely -- and illegally -- for providing such assistance, stating that Smith agreed with the undercover FBI agent and cooperating witness to bribe GOP county committee leaders in order to gain access to the ballot line.
Halloran allegedly arranged for the witness and agent to meet with Savino and Tabone, negotiated the bribe amounts, and pocketed $20,500 in cash for himself in exchange for his services.
According to the complaint, Tabone and Savino allegedly received bribes "including a total of $40,000 in cash payments and a promise of a total of $40,000 more in cash payments" in exchange for doing their best to obtain the approvals -- commonly referred to as Wilson Paluka certificates -- from their respective Republican county committees that Smith would need to gain access to the GOP ballot line.
Those bribes were allegedly delivered in cash on Valentine's Day to Savino and Tabone by the cooperating witness and federal agent. Both bribes were allegedly handed over to them inside the agent's car. Savino allegedly accepted $15,000 in cash, while Tabone allegedly received $25,000.
Smith allegedly told the federal agent and cooperating witness on March 21 that he was concerned that Tabone and Savino were stalling in order to receive more money before issuing the Wilson Paluka certificates, and directed them not to pay them any more money until Tabone and Savino "close[d] the … deal," according to the complaint.
The complaint goes on to allege that Smith said that if one of the leaders wanted "even a nickel more, [he'd] have to stand on the Empire State Building and drop every person [he] endorsed and hold Malcolm up and say he's the best thing since sliced bread. Matter of fact, he's better than sliced bread."
The Rockland County Connection
The whole affair regarding Smith allegedly attempting to use illegal means to get on the Republican ballot line extends all the way to Rockland County.
In exchange for the undercover agent and cooperating witness's assistance in bribing the officials, Smith allegedly promised to attempt to direct state funds to a road project in Rockland County's suburban Spring Valley community that would be beneficial to a real estate project he believed the undercover agent posing as real estate mogul was planning to build there.
Halloran was again allegedly directly involved in greasing this deal, agreeing to direct $80,000 from his City Council discretionary funds to the agent and cooperating witness under the guise that they would receive that money to perform consulting work on a Queens senior center. The councilman allegedly received benefits including $7,500 in cash and $6,500 in campaign contributions for carrying out this part of the plan.
After allegedly receiving the cash, Halloran made his jaded views about New York politics known, according to the complaint.
"That's politics, that's politics, it's all about how much. Not about whether or will, it's about how much, and that's our politicians in New York, they're all like that, all like that. And they get like that because of the drive that the money does for everything else. You can't do anything without the f---ing money," he said, adding later, ""Money is what greases the wheels - good, bad, or indifferent."
Smith also allegedly agreed to use his position as a state senator to secure funds for the Spring Valley project, after the agent told him that it would "cost a pretty penny" for him to get the support of GOP county leaders. Smith allegedly saw no problem with that.
"But it's worth it. Because you know how big a deal it is," Smith said, according to the complaint. "You pull this off, you can have the house … I'll be the tenant."
The complaint goes on to detail a number of other payoffs, deals and illegal actions that were allegedly agreed to by the six defendants named in the 28-page complaint, which also included Spring Valley Mayor Noramie Jasmin and Deputy Mayor Joseph Desmaret
Why This Case And Why Now?
The sheer volume of the evidence backing the charges against Smith, Halloran and Tabone in particular suggest that the alleged scheme was a small part of a greater culture of corruption in New York government and politics, a point that Bharara drove home in his remarks Tuesday morning.
"After the string of public corruption scandals that we have brought to light, many may rightly resign themselves to the sad truth that perhaps the most powerful special interest in politics is self-interest," the U.S. attorney for the Southern District of New York said Tuesday. "We will continue pursuing and punishing every corrupt official we find, but the public corruption crisis in New York is more than a prosecutor's problem."
The question on some folks' minds is why were Halloran and Smith targeted by the feds, when it appears that pay-to-play, bribery and corruption are the norm, not exceptions, in modern New York public affairs.
Those questions will be hashed out as the investigation continues, but Halloran and Smith have never played entirely by the rules -- written and unwritten -- of New York politics. Halloran claimed attorney-client privilege in declining to testify before a federal grand jury that was investigating his claims that certain parts of Queens were deliberately left unplowed for days following the 2010 New York City blizzard.
Also, as a highly conservative adherent of the tea party, something unusual in New York, and a practicing Pagan, which is practically unheard of in politics, Halloran has often found himself cast as an outsider. His outspoken and often virulent style of politics has not earned him any friends either.
Smith has been at the center of controversy before, as in 2010 a federal grand jury investigated allegedly suspect connections between his office and the Merrick Academy charter school in Queens, though no charges were filed in that case.
Time will tell what other results this case may bring, but for now, six criminally-charged New York officials are waiting to see what fate will bring them.
International Business Times reporter Howard Koplowitz contributed reporting to this story.
The charges against the six defendants are outlined in the document below, which is followed by the full text of the criminal complaint:
Here is the full text of the criminal complaint:
© Copyright IBTimes 2023. All rights reserved.
FOLLOW MORE IBT NEWS ON THE BELOW CHANNELS