NFL Draft 2017 Rumors: Green Bay Packers Could Pick DeShone Kizer, Trade Second-Rounder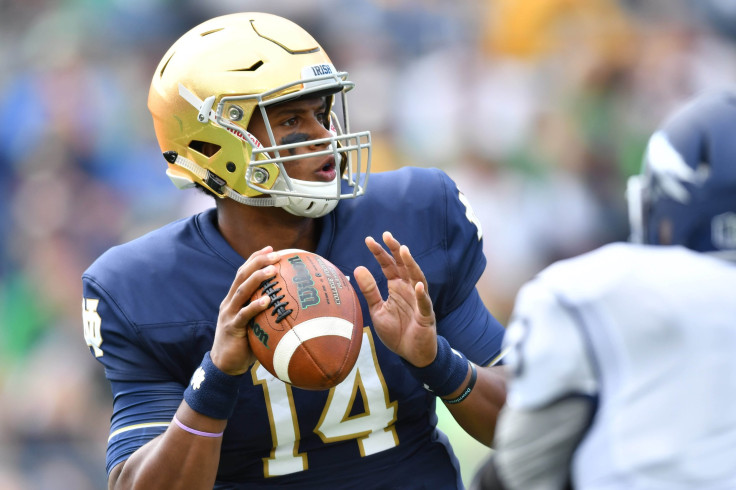 After three teams traded up in the first round of the 2017 NFL Draft in order to pick a quarterback, Day 2 could begin with another deal. The Green Bay Packers are reportedly considering a trade at the top of the second round.
Green Bay acquired the first pick of the second round late last night, trading the No.29 overall selection to the Cleveland Browns. The Packers are gathering interest from other teams as plenty of talented players still remain on the board. Florida State running back Dalvin Cook, Washington cornerback Kevin King and Notre Dame quarterback DeShone Kizer all went undrafted Thursday night.
If Green Bay doesn't pull the trigger on a deal, however, they could make one of the draft's most surprising moves. The team is reportedly entertaining the idea of picking Kizer at No.33 overall.
Kizer was considered a potential landing spot for teams late in the first round that were looking for quarterbacks. The Kansas City Chiefs moved up from No.27 to No.10 to get Patrick Mahomes, while the Houston Texans went from No.25 to No.12 for Deshaun Watson.
Kansas City and Houston were defeated in the divisional round of last year's playoffs in large part because they don't have a big-time quarterback. Green Bay, however, doesn't have a need under center.
In fact, the Packers might be the last team in the entire league that should be drafting a quarterback. Tom Brady remains the best quarterback in all of football, but Aaron Rodgers isn't far behind, and he's six years younger than the New England Patriots' star. Green Bay even drafted a quarterback two years ago, selecting UCLA's Brett Hundley in the fifth round to be their backup.
Kizer had been considered a first-round talent at the start of the college football season, but his draft stock dropped somewhat as Notre Dame went just 4-8 in 2016. He completed 58.7 percent of his passes for 2,925 yards, 26 touchdowns and nine interceptions as a junior. He ranked 32nd with a 145.6 passer rating.
A team looking to trade with the Packers could be eyeing Kizer, or possibly another quarterback. California's Davis Webb was a projected first-round pick by some, but he remains undrafted.
There have been rumors that the Arizona Cardinals are interested in Kizer. Arizona could be looking to draft their quarterback of the future with Carson Palmer's career winding down. They were a potential landing spot for Mahomes or Watson at No.13 overall, but the two quarterbacks were selected just before Arizona made their first pick.
Green Bay could also consider drafting Cook. The running back has lasted much longer than many draft experts previously thought, and the Packers had their share of struggles in the running game last year. Offensive tackle Forrest Lamp from Western Kentucky is also a realistic option at No.33.
The second and third rounds of the NFL Draft will be held Friday night. The draft concludes Saturday with rounds four through seven.
© Copyright IBTimes 2023. All rights reserved.