NFL: Ezekiel Elliott Wants Cowboys To Lock Up Dak Prescott Next
The Dallas Cowboys finally wrapped up talks with Ezekiel Elliott and now the attention shifts to Dak Prescott. Zeke officially became the highest-paid running back in the league and the 24-year-old wants to play out that six-year deal with Prescott by his side.
"I want to see it get done. I want to play with him for the rest of my career," Elliott said to Profootball Talk. Prescott was apparently listening and responded to Zeke's comments by calling it "sweet".
Unlike Elliott, Prescott has been present with the Cowboys in training camp. He has stayed away from contract talks, leaving it up to his agent Todd France to handle it. There is a chance that contract negotiations may extend up to the regular season although this is something that is hardly an issue with the 26-year-old quarterback.
"To put a timeframe on it, I think I've said this before, I'm not going to do that. At this point, my focus is all on the Giants, the Giants defense, what this team needs to do to win the game, and then next week we'll go to the next opponent. I don't want to blur my mind or distract myself any bit with thinking about those talks or thinking about what's going on when I've got enough on my plate to handle. I'm just focused on the Giants and I have people to take care of that," said Prescott.
At some point, Prescott will get his deal. Similar to how team owner Jerry Jones negotiated Elliott's deal, the announcement is likely to be made with a twist. Recall how Jones had everyone going with his "Zeke Who?" comments? It is likely that something is brewing and an official announcement will catch everyone by surprise.
"I just can't imagine Dak doesn't know what we think of him," Cowboys executive vice president Stephen Jones said in a report by The Athletic. "We're trying to put the best team around him. We want him to win Super Bowls. He's going to be the quarterback around here for many, many years to come."
Aside from Prescott, there are at least two more players who are due for long-term extensions in Amari Cooper and Byron Jones. All are unsigned beyond this year although preliminary talks have already been done. Prescott looms as the likely person to come next. But where would that leave Cooper and Jones?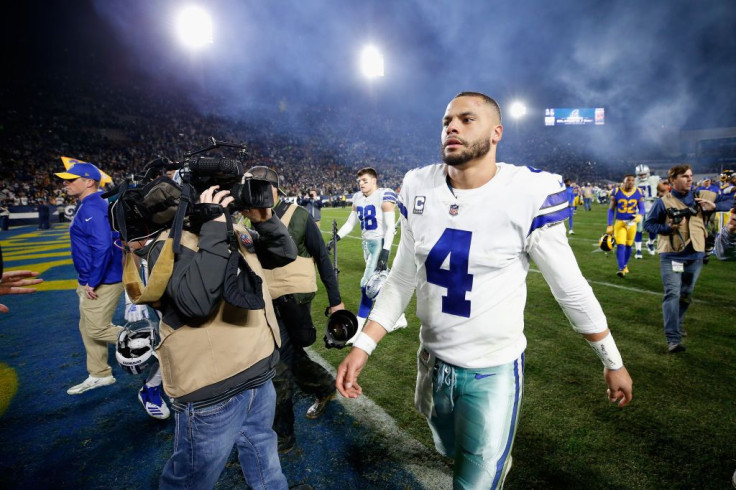 © Copyright IBTimes 2023. All rights reserved.